10 Lines on My Classroom: A classroom is considered as a learning space which is used by both adults and children in order to gain knowledge about different aspects. Classrooms are found in every type of educational institution may it be a kindergarten or a university.  Not only in educational institutions but classrooms are also found in places where some experts or teachers are providing some kind of training or learning. A classroom is a place which is meant for providing learning to each and everyone who is present in it without any outside distractions.
Classrooms in elementary schools have a capacity of 20 to 30 students in an average. They also have room for one, two or even three teachers. In a classroom which is considered to be self-contained, the number of students doesn't exceed 7. These classrooms are designed for those students who are in search of one to one interaction with their teachers. Middle school or high school classes are big to adjust a large number of students in it. These are some of the types of classrooms; let's discuss more classrooms further in the article.
Enhance your vocabulary and writing skills with 10 Lines Essays available. Spark up the creativity in you and access various Topics on 10 Lines all in one place.
Set 1 – 10 Lines on My Classroom for kids
The set 1 was designed specifically keeping in mind the students who are studying in classes 1, 2, 3, 4 and 5.
My classroom in classes 1, 2, 3, 4 and 5 was small and was designed to accompany at most 35 students at a single time.
My classroom was filled up with colourful chairs and tables. Each chair and table was of a different colour so that they would attract us to study more.
There was a big blackboard in my classroom which was used by my teachers for teaching us different subjects. Almost every teacher used the blackboard, and we students were responsible for cleaning the board after one period is over.
There was a cupboard in my classroom, inside which the dusters and chalks were kept. The cupboard was also used to keep the unit test copies of students by our class teacher.
My classroom has a blue coloured wall with white ceilings.
There were stickers of different cartoons stuck to the wall. Our class teacher also used the wall to stick various arts done by my classmates.
Every day our class teacher used to write the attendance, date and subject in the blackboard with her beautiful handwriting. This is changed every day.
My classroom had three windows all around that kept the class well ventilated.
My classroom has two doors in the backside.
There was always a basket present in the corner of my classroom, which was used for throwing waste.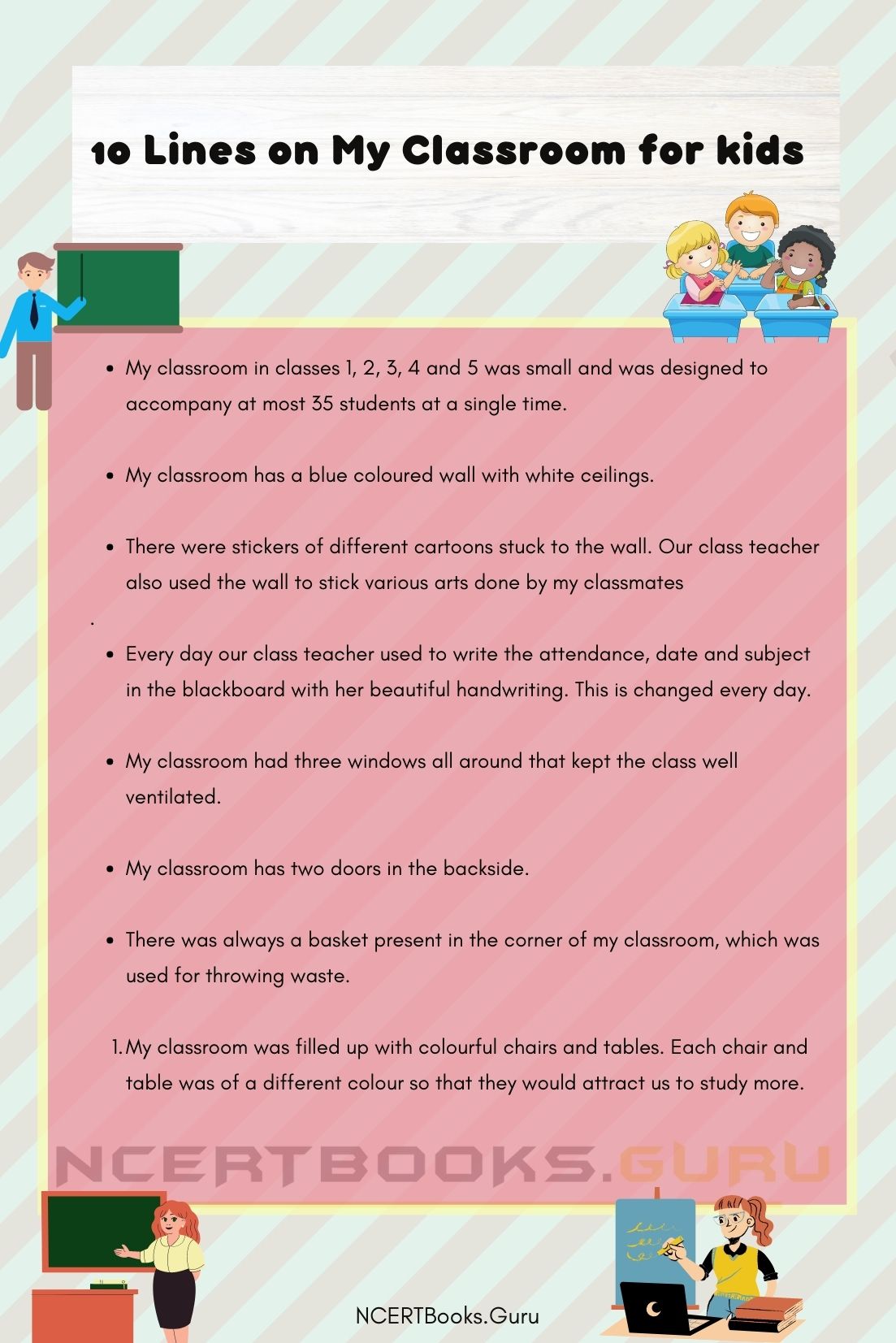 Set 2 – 10 Lines on My Classroom for School Children
Set 2 was designed specifically keeping in mind the students of class 6, 7, 8 and 9
My classroom in classes 6, 7, 8 and 9 was a little big than my previous classes.
My classroom was on the second floor of my school with three windows facing to our school ground.
At that time, projectors were installed in every class, including ours for making the learning experience of students better and efficient.
There was a whiteboard for the projector, and a green board was also installed by its side in case the teacher wants to write something on the board while teaching in the class.
My classroom was located in the new building of our school, which was just constructed as our school was expanding at that point of time.
The chairs and tables were of brown colour in my class. Each table can accommodate three students at one time.
Our classroom was coloured in white paint both on the ceiling and on the wall.
My classroom was capable of accommodating 50 students at maximum; thus, it shows how big the classroom was.
My classroom was located near the bathroom of our school; thus, it was a great advantage for us.
My classroom was well ventilated all the time because of the doors and windows that are present in plenty.
Set 3 – 10 Lines on My Classroom for Higher Class Students
This set is crafted specifically for the students who are in classes 10,11 and 12. This set also aims for those who are having professional courses or any type of degree.
Higher the class bigger is the classroom because the strength of students increase gradually when you go to the upper classes. Colleges have bigger classrooms than schools.
My classroom in college was huge in length and had the capability of accommodating 200 students easily.
It has a huge black coloured board that covered almost the entire wall. This blackboard was used by the lecturers while teaching.
Our classroom in college has brown benches and tables. In a single bench, four students can sit easily.
In college, every class was held in different classrooms; therefore, we used to go into classrooms which have galleries.
Classrooms which have galleries are beautiful, and it looks professional thus gives a nice feeling to study in this type of classrooms.
Classrooms in professional courses are also huge, with big screens installed in every classroom.
The screens are used to present PowerPoint presentations before the students and teachers.
Professional courses classrooms are equipped with air conditioning for a comfortable learning experience of students.
During my professional course, my classes were installed with green tables and white push back chairs.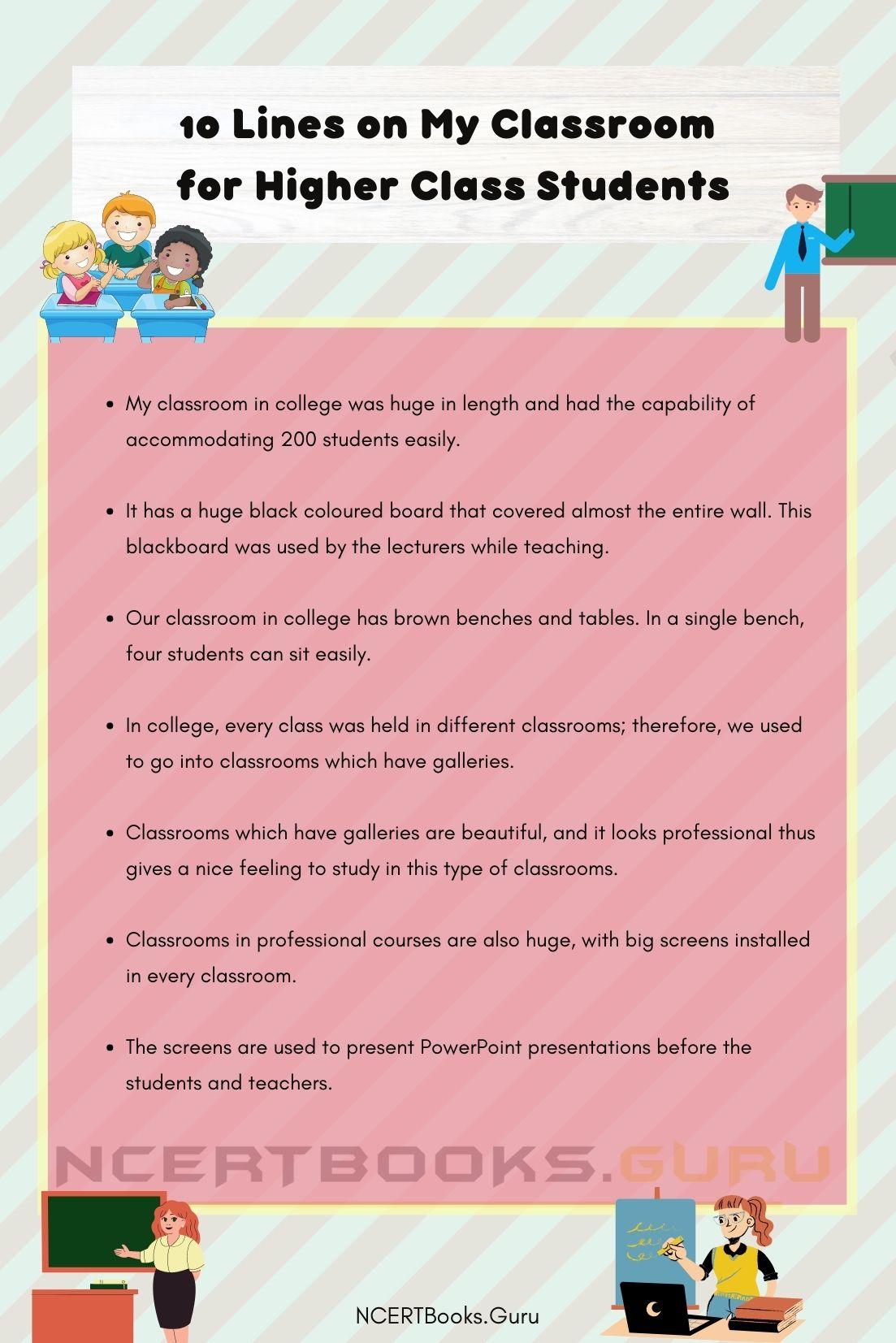 Frequently Asked Questions on My Classroom
Question 1.
Why are classrooms important?
Answer:
Classrooms are essential because they create a learning atmosphere for students. It is keeping them away from all the outside distractions that can harm their studies and preparation for the exams.
Question 2.
Should classrooms be big to accommodate more students?
Answer:
Small classrooms with fewer students are good for learning as it involves more one-to-one interaction with the teacher, but in bigger classrooms, this is not possible.
Question 3.
What's the purpose of classrooms?
Answer:
A classroom is a place where people come to gain some knowledge and improve their skills. So the purpose of classrooms is very clear; they are invented to provide a space for learning and education that is very important in one's life.
Question 4.
Where can we find classrooms?
Answer:
Classrooms are usually located in educational institutions. But a place where learning is shared by someone with a number of people, then this place is also considered as a classroom. Similarly, rooms, where some kind of training is given, is also considered as a classroom because people are learning something in that room.
Question 5.
What are the things we usually find in a classroom?
Answer:
The classrooms are equipped with blackboards which is essential as the teachers use this for teaching. The classrooms also contain chairs, tables and cupboards.
Read More: Digital Collaboration In Classroom Essay