10 Lines on MS Dhoni: When it comes to appreciating Indian cricketers, MS Dhoni is a top-listed player. Born on 7 July 1981, Dhoni is Indian International cricket player who was a former captain of the Indian Team for around 11 years. His captaincy brought many honours to India in cricket, and presently he has earned millions of fan following.
However, the life-journey for everyone is not that easy as we think. Similarly, Dhoni had made to Indian Cricket Team with a lot of hard work and passion. He is a tagged coolest captain of Indian Cricket Team to take the most appropriate decisions every time. Throughout his life, he had faced many ups and downs but eventually made to the Indian Team. Learn more about MS Dhoni through the set of ten lines listed upon him. Below are the created sets of ten lines on M S Dhoni that states his life journey. Hopefully, these will entertain you the most.
Enhance your vocabulary and writing skills with 10 Lines Essays available. Spark up the creativity in you and access various Topics on 10 Lines all in one place.
Set 1 – 10 Lines on MS Dhoni for kids
This set of 10 lines on MS Dhoni is suitable for standard 1, 2, 3, 4, and 5.
MS Dhoni is the former Indian international cricket player.
He remained captain for Indian cricket team for 11 years from 2007 to 2016.
MS Dhoni's birthplace is Ranchi, Bihar, India. He took birth on 7 July 1981.
Now Ranchi has moved to Jharkhand, and it is the capital city of state Jharkhand.
He always looked for his cricket career, and since childhood, he was player of Bihar cricket team.
Jersey of Dhnoi clearly depicts his birth date as number 7 on it.
Under his captaincy, India won second World Cup in 2011 after playing against Sri Lanka.
In 2010, on July 4, MS Dhoni tied a knot to Sakshi Singh Rawat.
Sushant Singh Rajput played an important role as MS Dhoni played in the biopic "M.S. Dhoni: The Untold Story."
A Web series "The Roar Of  A Lion" is based upon his cricket's real-life journey.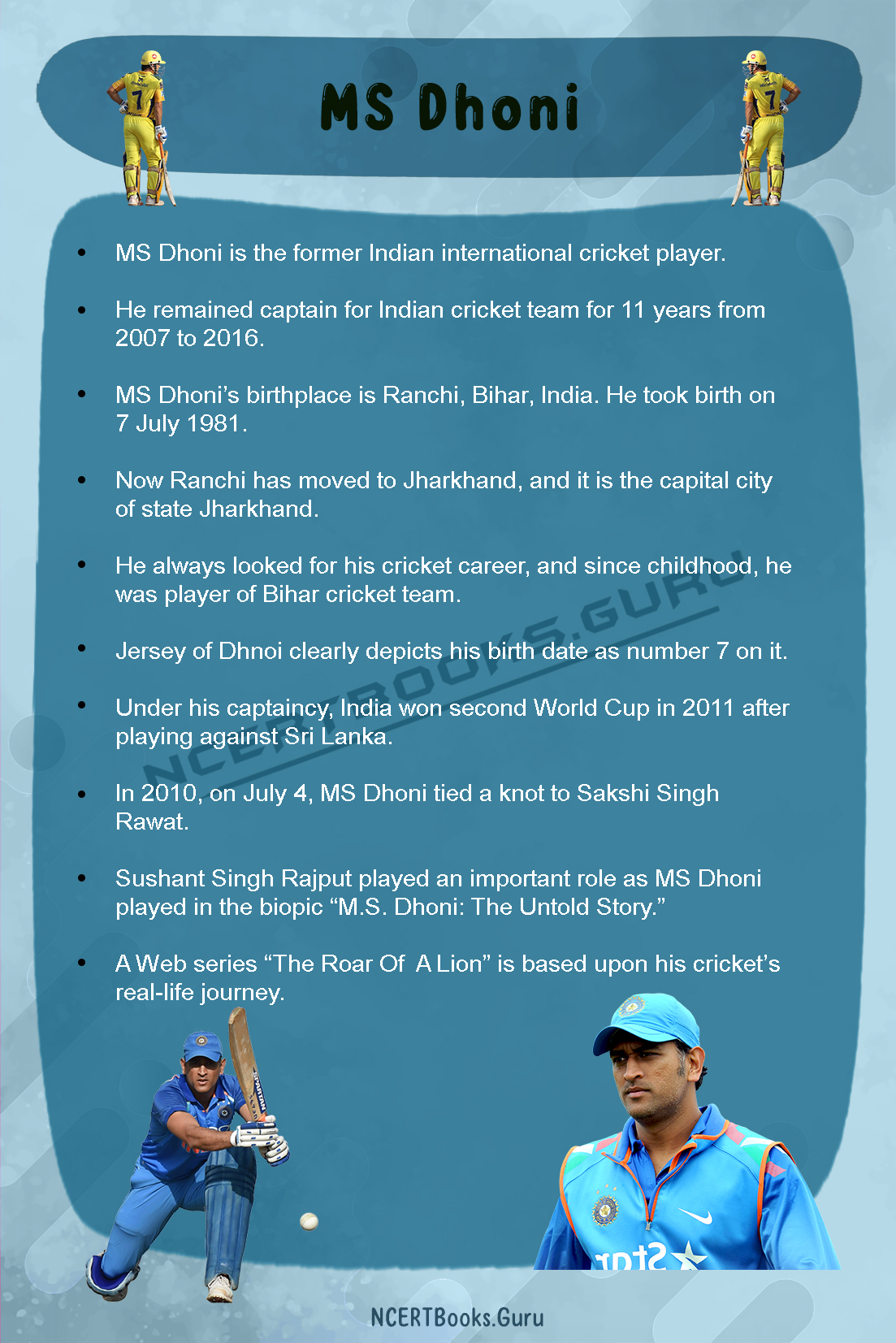 Set 2 – 10 Lines on MS Dhoni for School Children
This set is suitable for students in standard 6, 7, and 8.
In India's history, Dhoni scored the highest Test series runs and made it to 4000 runs. He is the best wicket-keeper as well as a batsman.
Under the captaincy of MS Dhoni, India won many cricket awards including, Asia Cups in 2010 and 2016, Word Cup in 2011, 2017 ICC World Twenty20 match, and ICC Championship Trophy in 2013.
Along with being a wicket-keeper, Dhoni made to highest scores in ODIs. Thus he is tagged to bring an effective finish to a match.
Dhoni has always been the part of every type matches including Test series, ODIs, T20, and IPL.
Dhoni earned many awards during his captaincy, including prestigious civilian awards, gallantry awards, and many sports awards.
Dhoni is the one only Captain of India who never lost ICC trophies during his captaincy.
Throughout the world, he is famous as "Mahi" which is his nickname since childhood.
After leaving Indian Cricket Team, Dhoni has joined Army of Jammu & Kashmir on 31 July 2019.
Before joining the Indian Cricket Team, Dhoni has been the one Traveling Ticket Examiner in Railways. He worked as a ticket examiner in 2001.
Dhoni holds many captaincy records to make India proud for winning many ODIs and T20s series.
Set 3 – 10 Lines on MS Dhoni for Higher Class Students
Ten lines on MS Dhoni are suitable for students of standard 9, 10, 11, 12, and other competitive exams.
Dhoni is a right-handed batsman who is famous for his wicket-keeping skills throughout the world.
He is the reason for India is proud of its Indian cricket players under his captaincy.
He earned many rewards during his captaincy, including Rajiv Gandhi Khel Ratna Award, Padma Shri Award, and Padma Bhushan Award.
After he retired from Indian Cricket Team, presently Dhoni has joined Indian Army of Jammu & Kashmir. He began with his duty on 31 July 2019.
Presently, he has become a source of inspirations for thousands of lives. The one such inspiration is never stopped working for your passion.
Against England, under the captaincy of Dhoni, India has won One Day Internation series match on 2nd September 2014.
Throughout his life, Dhoni never stopped putting hard work and earned a reward winning reputation throughout the world.
Presently, Dhoni is known for his top-class batsmanship, a skilled wicket-keeper, and the best Indian Cricket team captain.
Being an inspiration for thousands of people, every small child dreams of being like him.
In 2014 on 30 December, Dhoni took retirement from the test matches. Eventually, he took retirement from Indian cricket on 15 August 2020.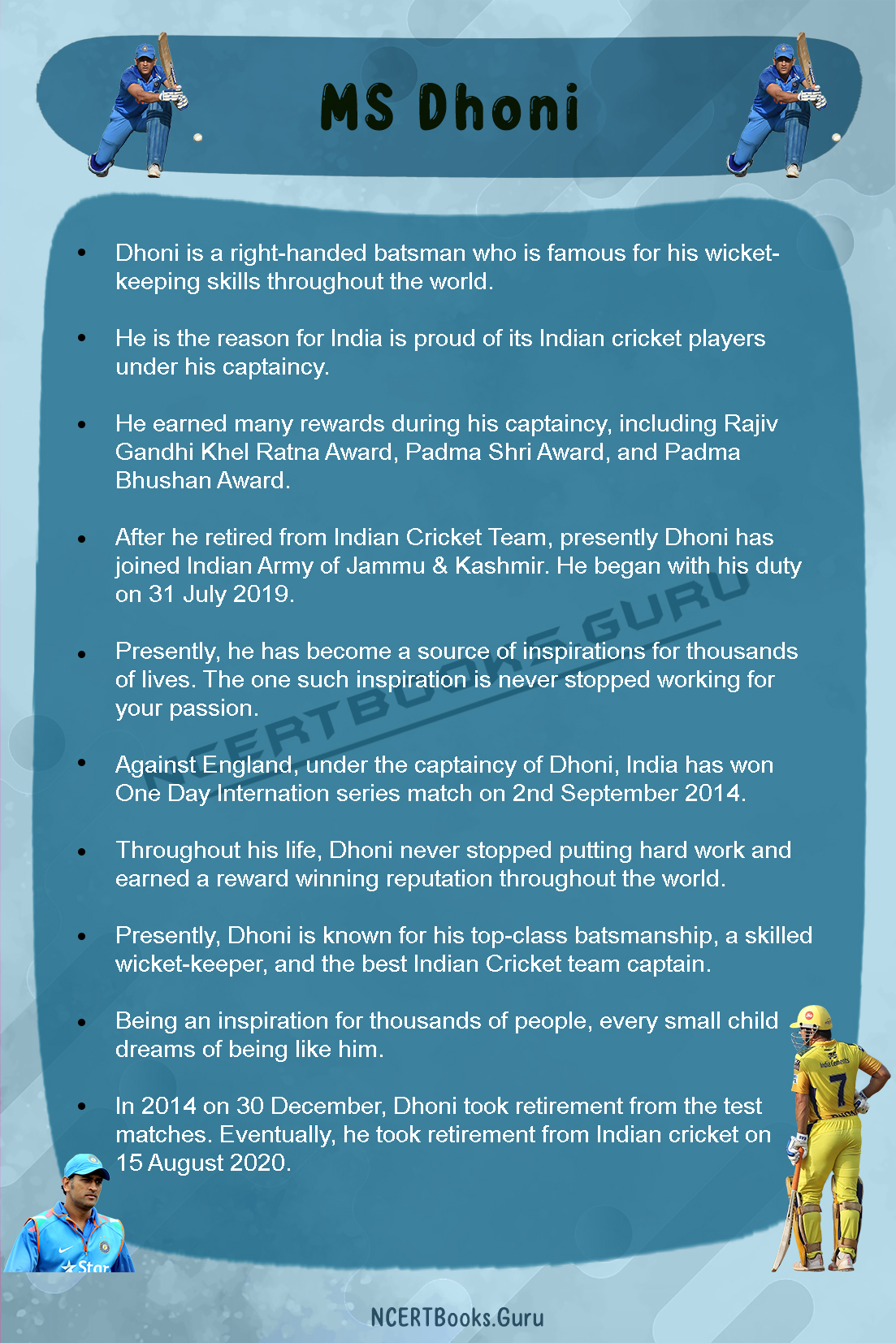 Frequently Asked Questions on MS Dhoni
Question 1.
Which award Dhoni didn't win?
Answer:
Dhoni has been rewarded with the three best and high awards- Padma Shri Award, Padma Bhushan, and Rajiv Gandhi Khel Ratna Award. However, he didn't win the Bharat Ratna Award during his playtime. Even Dhoni made to ICC ODI Team of the Year, ICC Award for Spirit of Cricket, and LG People's Choice Award.
Question 2.
How much money is paid to Dhoni to play a match?
Answer: 
The pay scale for Dhoni for each match was not constant. However, before his retirement, Dhoni took 20 lakhs for a single match. However, BCCI doubled-up his salary for playing World Cup and ICC tournaments.
Question 3.
Who is known as the King of Indian IPL matches?
Answer: 
Without any doubt, MS Dhoni is tagged as the king of Indian IPL matches. Players usually get these titles from his fans. Similarly, Dhoni got this title from his fans.
Question 4.
Why do fans call Dhoni as Captain Cool?
Answer:
Fans tagged Dhoni as Captain Cool. The word is correctly defined for his nature to be a calm captain throughout the gameplay. He never lost his temper while playing a match. Also, his decisions always turned out to be match-winning.