10 Lines on Moral Values: Moral values come from mental growth. As a parent, when you start giving good life sessions to your children, it is so much necessary that you must incorporate excellent and useful moral values in them. It is the baby step that your children learn so much about life and life-related moral lessons.  Parents are the leading roles in guiding the children in developing moral values.  In the early days, parents' teaching let the child grow to a successful and respectful person in society with his/her moral values. There are many claims that children learn moral values on their own. But this is not the truth.
The development of knowing what is right and what is terrible starts at an early age. This stage begins when you are with your parents in the initial phase of your life.  Moreover, it is necessary that the learning of moral values should start from the home itself. As they grow up, that reflects in their personality, and that is how they become recognized in society.  Moral values can bring you a great sense of pleasure in doing your work, it will earn you respect, and you will get praises from all your surroundings.
Enhance your vocabulary and writing skills with 10 Lines Essays available. Spark up the creativity in you and access various Topics on 10 Lines all in one place.
Set 1 – 10 Lines on Moral Values for kids
Set 1 is helpful for students of Classes 1, 2, 3, 4 and 5.
It is always necessary to practice what you learn.
Practice the good deals that you know from school, home, parents, and teachers.
Moral values are the general concepts of completing things in the right ways.
There is a different view of performing moral values by other people.
Moral values are the standards that come from different principles and various sources.
The moral values should keep increasing and improving with our environment.
The opposite meaning of righteous is immoral, which means doing things wrong.
Moral values always help you in judging one's character.
Moral values reflects the cultural values and ethical values
moral values play an essential part in all our life.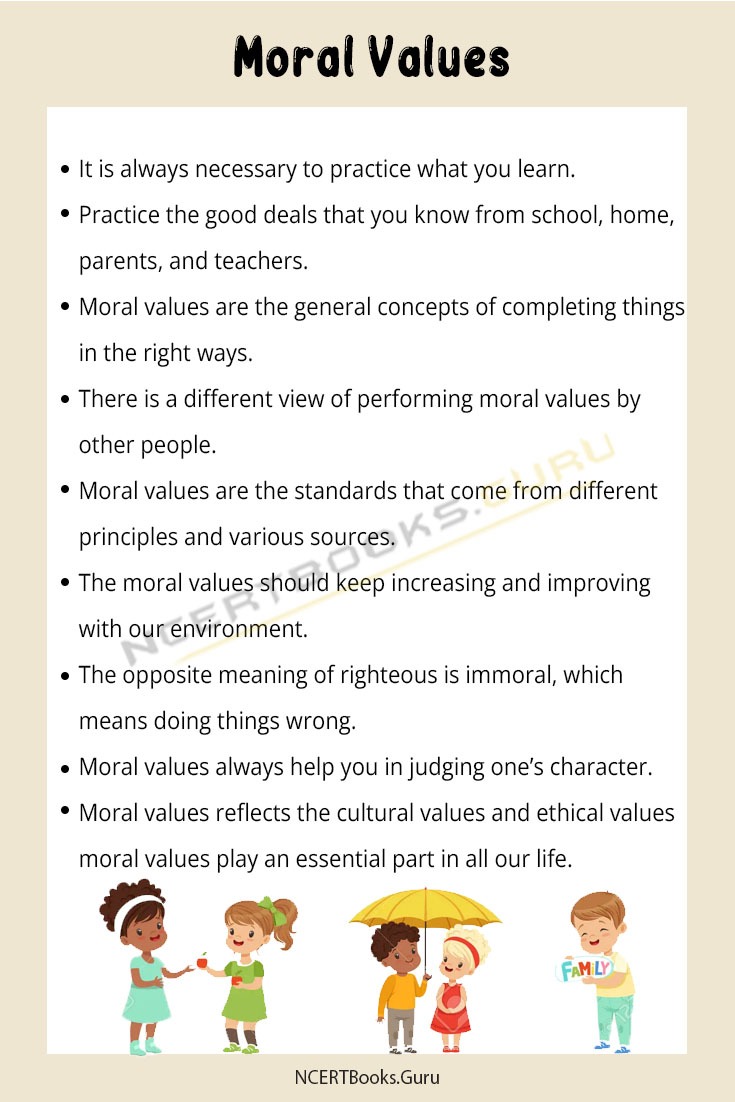 Set 2 – 10 Lines on Moral Values for School Children
Set 2 is helpful for students of Classes 6, 7 and 8.
Moral value or morality is derived from the Latin word honest is, which indicates the manner and character.
Moral values come hand in hand with the ideals and various principles of behaviour.
Moral values help in building our nature and behaviour.
India is best known for its ancient moral values and ethics.
Moral values always help us in differentiating what is wrong and what is right.
Moral values keep decreasing your habits of dishonesty, violence, and cheating.
Having moral values will help you to put your logic in the facts of much unsocial activity.
Moral values helps in fighting with silly issues.
Moral values help us in having a good relationship with others.
Moral values help in dealing with the different kinds of person with different mindsets.
Set 3 – 10 Lines on Moral Values for Higher Class Students
Set 3 is helpful for students of Classes 9, 10, 11, 12 and Competitive Exams.
Moral values are the set of principles that have been described by society and how you behave according to it.
The person who incorporates these values with them is regarded as the best asset to society.
Moral values define your states of doing right or wrong.
Moral values develop a good character within yourself.
You get to know about the values of being real, loyal, honest, and helpful.
Moreover, society expects a good set of moral values from individuals.
Moral values help us deal with all sorts of hard interviews that we come across, as the interviewer always looks for the opposite person with a high moral sense.
A person with good moral values is expected to deal with a critical situation more easily than others.
In any organization, the employees with good moral values are always free from corruption, and there is still an excellent fair chance of learning from the business.
today's youth must learn to imply moral values to them.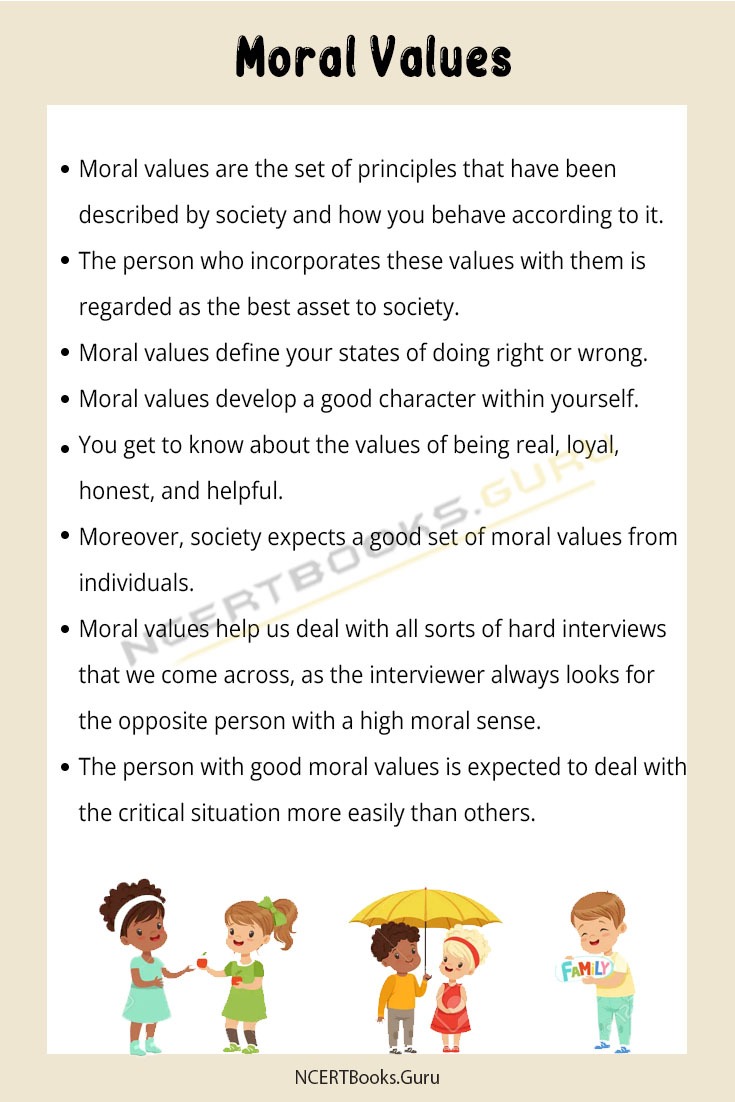 Frequently Asked Questions on Moral Values
Question 1.
what do you mean by moral values?
Answer:
moral values can be defined as the set of principles that guides us in a very righteous and correct path of our life. It is never intended to harm anyone's intentions, and it builds a unique and caring nature within yourself.
Question 2.
what are the significant moral values that needed to be developed?
Answer:
the primary moral values that one should develop are respecting, being honest, kind, grateful, and sacrificing quality.