10 Lines on Makar Sankranti: To mark the initial day of the sun's transition to Capricorn, people in India commemorate Makar Sankranti. This day is the midwinter end and the duration of the day increases after this day.
With distinct names in distinct parts of India, we commemorate Makar Sankranti. In Bengal, the day is well-known as PoushParbon, in Gujarat it is Uttarayan. This festival marks the solar cycle while the other Indian festival follows the Hindu calendar's lunar cycle.
Enhance your vocabulary and writing skills with 10 Lines Essays available. Spark up the creativity in you and access various Topics on 10 Lines all in one place.
Set 1 – 10 Lines on Makar Sankranti for kids
Set 1 is helpful for students of Classes 1, 2, 3, 4 and 5.
Makar Sankranti the all India festival, known by various names, is celebrated on 14th
Makar Sankranti falls under the solar month of Makara and lunar month of Magha according to the Hindu calendar.
People fly kites in the sun to celebrate the festival in many parts of India.
As a part of crucial spiritual practice, people take holy bath in rivers for absolution of sins on the day of the festival.
Every twelve years, Kumbh Mela (a mass pilgrimage of belief) is organized and on the day of Makar Sankranti billions of people go to Prayag for the bath and offering of prayers to Lord Sun.
People on this auspicious occasion of Makar Sankranti exchange sweets made up of jaggery and til to express love and joy.
Makar Sankranti is similar to the thanksgiving festival celebrated in the western part of the world.
The day symbolizes the end of the winter season, which is known for infections and sickness, early morning sun on the day of the festival helps people get rid of the harmful bacteria.
Makar Sankranti has regional variations and is celebrated with different customs and traditions all over India.
Expect India, Makar Sankranti is very famous in Nepal and is celebrated with the name Maghe Sankranti. It symbolizes the end of the Poush-unlucky and inauspicious period.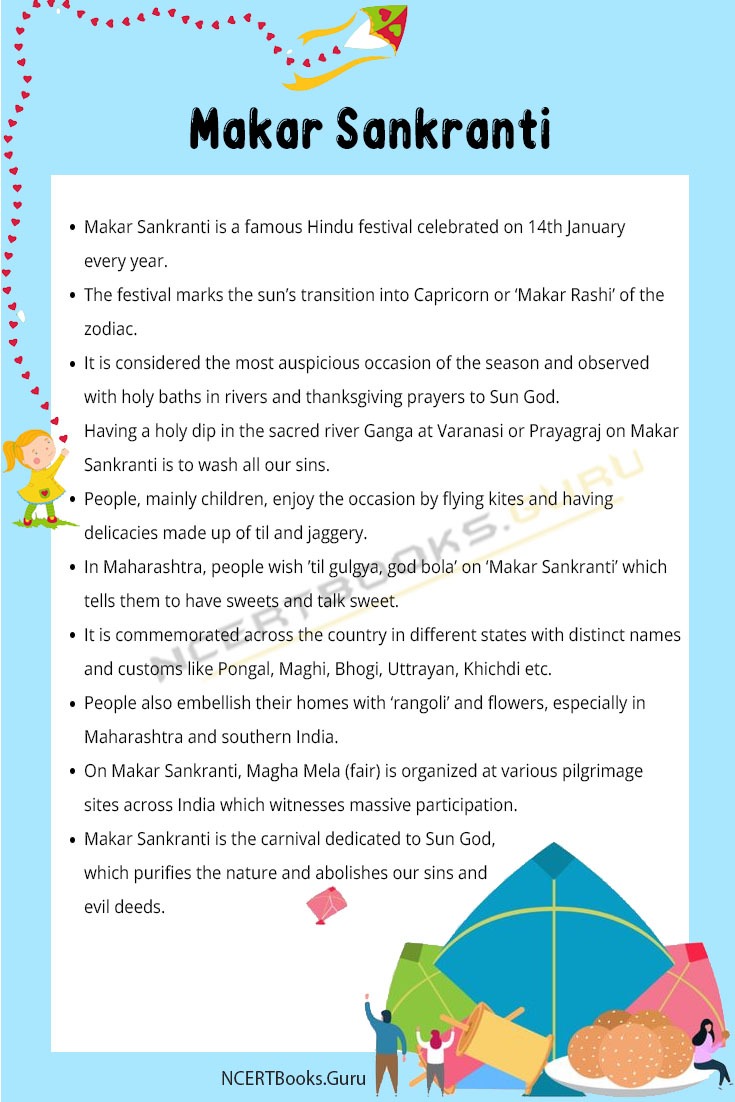 Set 2 – 10 Lines on Makar Sankranti for School Children
Set 2 is helpful for students of Classes 6, 7 and 8.
In Andhra and Telangana, the celebration of Makar Sankranti carnival is for four days by lighting bonfire, singing, dancing, wearing new clothes and presenting traditional foods to ancestors.
In Assam, people build temporary huts from bamboos and leaves prepare the food under the hut, and after relishing the feast, they destroy huts the very next morning.
Magh Bihu carnival of Assam also includes traditional games like buffalo fighting and pot breaking competition.
In Bihar and Jharkhand it is commemorated as Khichdi, people after taking holy bath people eat seasonal delicacies like Chura, tilgul, sweets. In the night they prepare a special dish called Khichdi.
In Karnataka, cows and bulls are embellished and are left for grazing in the green field. They are shown as a symbol of the harvest festival for the farmers.
Girls in southern India wear new clothing and visit other homes of other family members with presenting in a plate having ground nuts, coconut and jaggery.
The ritual of exchanging delicacies on Makar Sankranti in south India is called "Ellu Birodhu".
In Orissa, on the auspicious occasion of Sankranti festival, many people visit temples and perform ritual practices while fasting.
Some people in Orissa prepare makar Chula (a mixture of rice, banana, coconut, jaggery, rasagola) as a gift to gods and goddesses.
People of western Orissa have common rituals of friendship on the day of Makar Sankranti. The individual ties the friendship band on each other's wrists and addresses the other as "Marsad" for a year.
Set 3 – 10 Lines on Makar Sankranti for Higher Class Students
Set 3 is helpful for students of Classes 9, 10, 11, 12 and Competitive Exams.
Makar Sankranti is a famous Hindu festival celebrated on 14th January every year.
The festival marks the sun's transition into Capricorn or 'Makar Rashi' of the zodiac.
It is considered the most auspicious occasion of the season and observed with holy baths in rivers and thanksgiving prayers to Sun God.
Having a holy dip in the sacred river Ganga at Varanasi or Prayagraj on Makar Sankranti is to wash all our sins.
People, mainly children, enjoy the occasion by flying kites and having delicacies made up of til and jaggery.
In Maharashtra, people wish 'til gulgya, god bola' on 'Makar Sankranti' which tells them to have sweets and talk sweet.
It is commemorated across the country in different states with distinct names and customs like Pongal, Maghi, Bhogi, Uttrayan, Khichdi etc.
People also embellish their homes with 'rangoli' and flowers, especially in Maharashtra and southern India.
On Makar Sankranti, Magha Mela (fair) is organized at various pilgrimage sites across India which witnesses massive participation.
Makar Sankranti is the carnival dedicated to Sun God, which purifies the nature and abolishes our sins and evil deeds.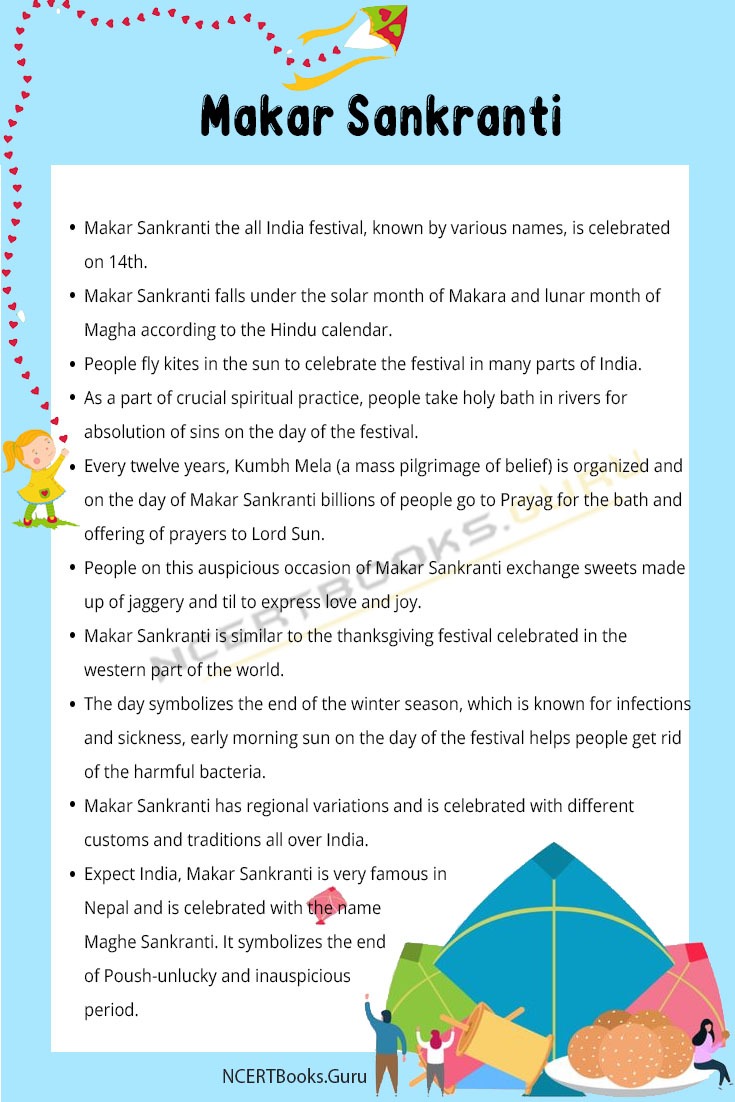 Frequently Asked Questions on Makar Sankranti
Question 1.
What is the main reason for the celebration of Makar Sankranti?
Answer:
We commemorate Makar Sankranti when the sun enters the Capricorn.
Question 2.
Why people select warm clothes to wear in Makar Sankranti?
Answer:
Sankranti always falls in January, which is a chilly month. Warm clothes help people to be warm during the celebration.