10 Lines on Jawaharlal Nehru: India gave birth to many great Fighters, and one of the most popular ones is Pandit Jawaharlal Nehru. Mahatma Gandhi is known as India's father, while Jawaharlal Nehru is known as modern India's architect. Jawaharlal Nehru was the first independence India Prime Minister; he was a man with clear and grid vision; he was a politician, leader, and writer.
Always want India to become a prosperous country in the world. He was a man of peace and joined the freedom movement against Britishers. He joined hands with Mahatma Gandhi, and after that, he joined the non-cooperation movement of Mahatma Gandhi. He had to face many challenging steps in life even so many times, but his love for the country did not get less with time. He was a man of modern thought. He always wants to make India a more advanced model and civilised nation. The difference between Nehru and Gandhi is that Gandhi always wants an answer and India while Nehur,always wants modern India. He still wants the development of India in a forward direction irrespective of cultural and religious differences. He gave women equal rights like men. He loved children very much, so the government celebrated his birthday as Children's Day.
Enhance your vocabulary and writing skills with 10 Lines Essays available. Spark up the creativity in you and access various Topics on 10 Lines all in one place.
Set 1 – 10 Lines on Jawaharlal Nehru for kids
Set 1 is helpful for the student of class 1,2,3,4 and 5
Jawaharlal Nehru was a man with a versatile personality.
He is a man with a great leader, politician and writer. He was born on November 14, 1889, in Prayagraj.
Motilal Nehru was his father, a lawyer and wealthy person for which Nehru got the best education.
Nehru lived in Anand Bhawan.
He completed his primary education from a home tutor and sent to England for higher studies.
After completing law, return to India and was deeply influenced by Mahatma Gandhi and took part in the freedom movement.
Nehru also followed nonviolence and truth and was elected as president of Indian National Congress in 1929.
After India's independence, he became the Prime Minister of the country. His leadership brought progress, prosperity and respect for the country.
Peaceful coexistence is Moto. He followed the path of Buddha priest and Nanak.
He died on May 27, 1964, he created Mini educational technical and medical institutions and brought considerable progress in the industrial, agricultural and power sectors.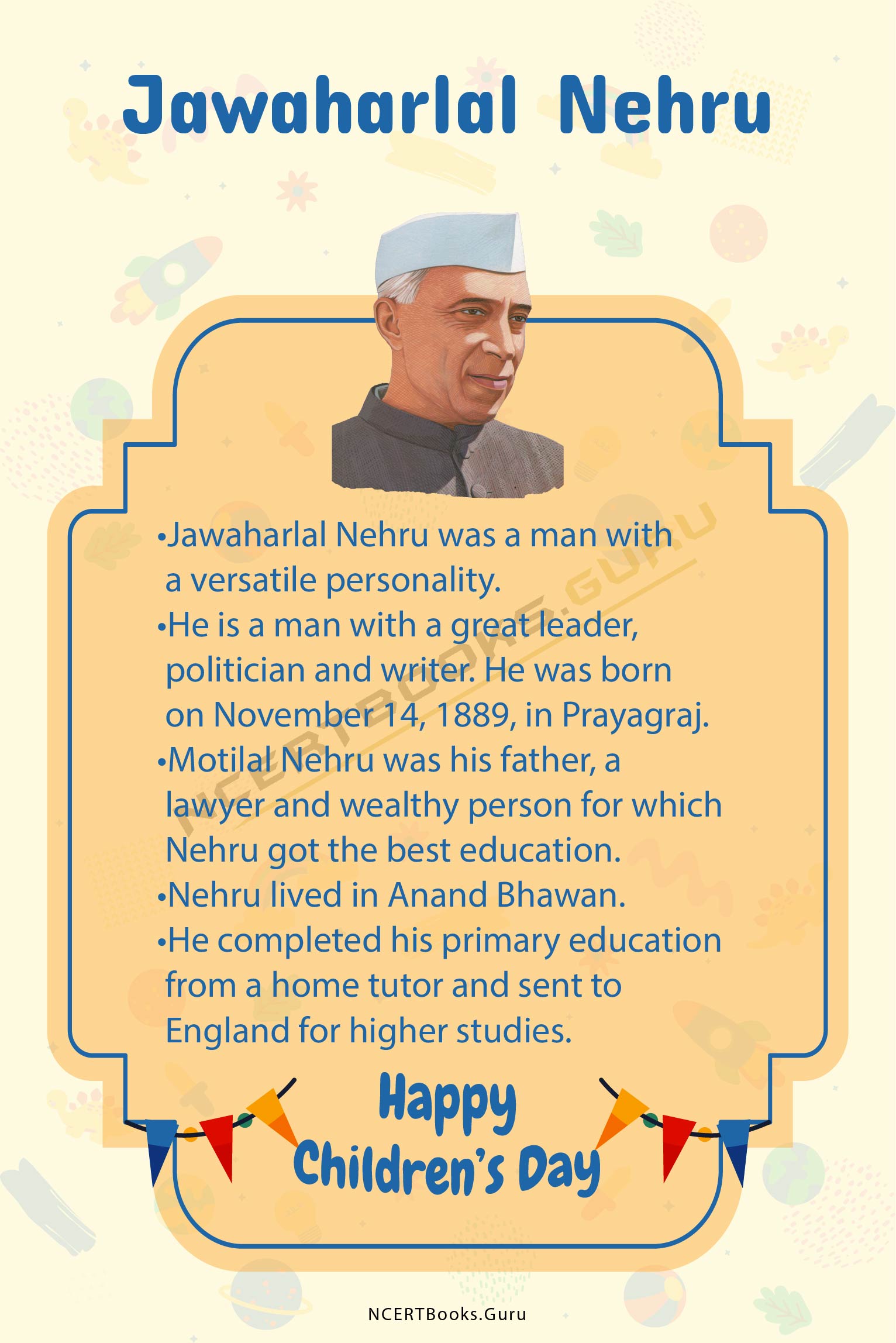 Set 2 – 10 Lines on Jawaharlal Nehru for School Children
Set 2 is useful for students of class 6,7 and 8
Jawaharlal Nehru was a great Indian freedom fighter and also a central figure in Indian politics.
He acted as a prominent leader of the Indian Independence Movement, and we became the first Prime Minister.
Amar Chitra Katha named him as the architect of modern India.
Jawaharlal Nehru studied at Cambridge University and completed his degree in 1910.
He was not much interested in law or preferably he has more interest in politics.
He practices as a lawyer in Allahabad Court. he married Shrimati Kamla Devi, and his daughter's name is Indira, also known as Chacha Nehru.
Also known as Pandit Nehru as he belongs to the Kashmir Pandit community.
As he was a great writer, he wrote the discovery of India.
His slogan Aaram haram hai is a great inspiration for all ages.
His birthday is celebrated as Children's Day all over India; he always keeps a red rose in his shirt pocket.
Set 3 – 10 Lines on Jawaharlal Nehru for Higher Class Students
Set 3 is helpful for students of class 9,10,11,12 and competitive exams.
Jawaharlal Nehru acted first Chairman of National Planning Commission, and he also started National Development Council for the development of the living standard of Indians.
The First Five Year Plan was launched under his guidance. He also prepared a road map of India's industrialisation, poverty superstition and ignorant backwardness.
He also initiates the Panchayati Raj system in the country to develop Indian people and even forms Panch sheel to maintain International peace with India.
His work for weaker sections and rights for women and children is always remarkable in his honour; many university institution stadiums and parks are set up.
His hard work for making India is always fruitful and memorable so he is known as the Architects of our nation.
Always believe that children are The Golden future of India and India's real wealth and heel of children so November 14 is celebrated as Children's Day for memory.
He believed in life and let live and hate exploitation and ignorance.
Nehru's motto is to see his motherland, as a free country he was impressed by Mahatma Gandhi in the Lucknow session and became a famous soldier in the freedom struggle; he spent his youth in jail.
He was elected as secretary of the Congress in 1923 and became President of the Indian National Congress.
Sardar Vallabhbhai Patel was the most senior 2 to him, but because of their leadership qualities and love for the country, he was chosen to be India's first prime minister.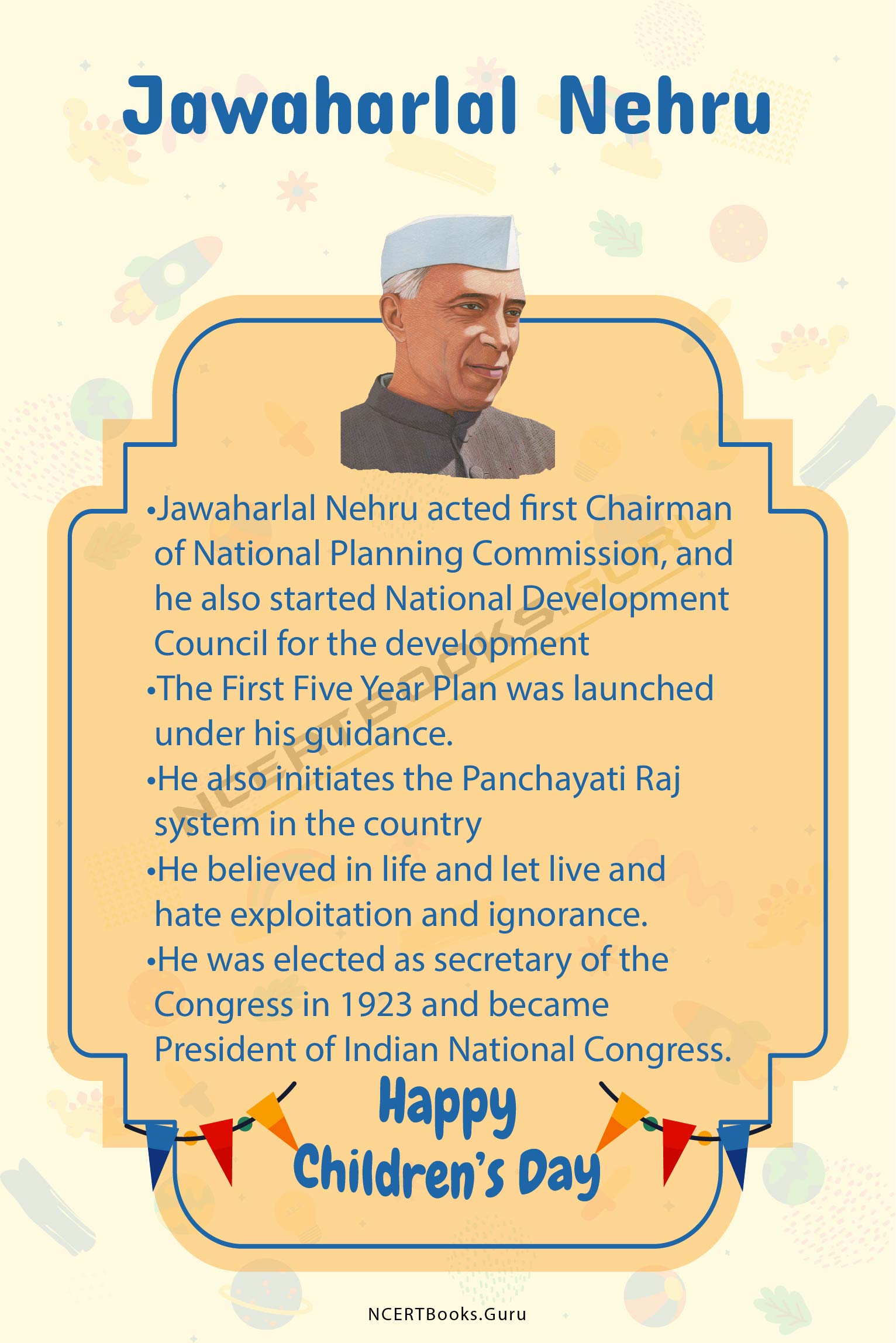 Frequently Asked Questions on Jawaharlal Nehru
Question 1.
When was Jawaharlal Nehru born?
Answer:
Jawaharlal Nehru was born in November 14 1889
Question 2.
Who was the prime minister of independent India?
Answer:
Jawaharlal Nehru was the first Prime Minister of independent India.
Question 3.
For which for home memory November 14 is observed in India?
Answer:
In memory of Jawaharlal Nehru, November 14 is observed as Children's Day in India.