10 Lines on Janmashtami: Janmashtami is one of Hindu festivals that marks the celebration of the birth (janma) of Lord Krishna's birth on the eighth (Ashtami) day of the night of the month of Bhadrapada which falls in August–September.
We observe this festival, especially in Mathura and Vrindavan (Brindaban), the scenes of Krishna's childhood days. On the previous day, the occasion devotees keep a fast and not sleep until midnight, and this is the regular hour of Lord Krishna's birth.
Lord Krishna's statue is bathed in water mixed with milk, dressed in new clothes, and worshipped. We decorate temples and household shrines with leaves and flowers; sweets are first offered to the figure and then distributed as Prasada (the Lord's leftovers, which carry his favour) to everyone.
Enhance your vocabulary and writing skills with 10 Lines Essays available. Spark up the creativity in you and access various Topics on 10 Lines all in one place.
Set 1 – 10 Lines on Janmashtami for kids
Set 1 is helpful for students of Classes 1, 2, 3, 4 and 5.
Janmashtami is also known as Gokul Ashtami.
Janmashtami is one of the major festivals of the Hindu religion.
Janmashtami always falls in August or September.
"Dahi-Handi" Is an essential part of this celebration which is practised by everyone.
People make a human pyramid and try to reach the clay vessel full of curd and hang high.
Butter, curd and milk were favourites of Lord Krishna, which is why Dahi-Handi is celebrated with great excitement.
It is celebrated in Mathura and Vrindavan where Lord Krishna spent his childhood.
People who do not eat anything on this day drink Panchamrit in the middle of the night.
Special ways of celebration are seen in all temples of Lord Krishna.
Lord Krishna has been the symbol of our faith for ages.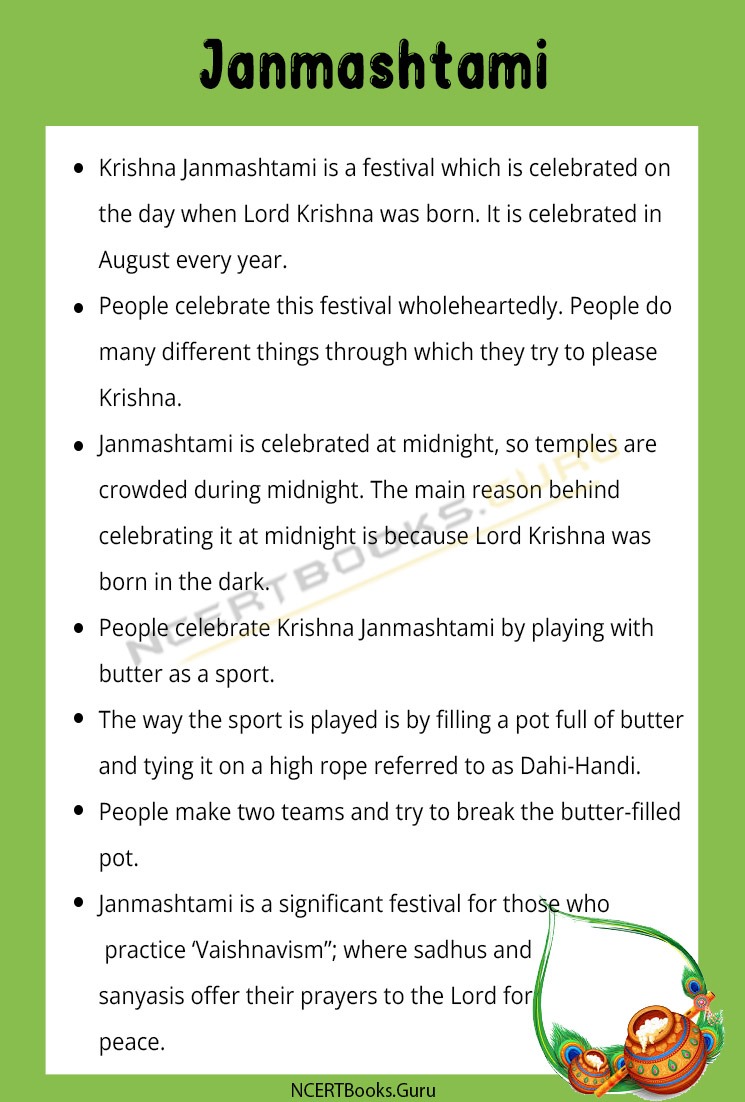 Set 2 – 10 Lines on Janmashtami for School Children
Set 2 is helpful for students of Classes 6, 7 and 8.
Janmashtami is a festival celebrated by everyone in India. Lord Krishna is one of the most powerful incarnations of Lord
Vishnu, Hindus celebrate this festival with great joy and happiness.
Janmashtami is celebrated all over India with great happiness, especially in states like Uttar Pradesh, Gujarat, Maharashtra, Bihar etc.
Lord Krishna is the 8th incarnation or avatar of Lord Vishnu.
Lord Krishna was born to save the world from evils and remove all the sadness.
He was born to play different roles to different people such as a teacher, mentor, lover, deity, friend, companion etc.
On Janmashtami, the temples of Lord Krishna are filled with worshippers for prayer.
Many people keep complete fasts while some only rely on fruits on Krishna Janmashtami.
Krishna is considered to bring peace as he killed 'Kansa' the evil king of 'Mathura' and made people free from his evilness.
After Krishna's midnight hour of birth, people who keep fast break it by eating Prasad of panjiri. On this occasion, children also participate in various programs in memory of Lord Krishna and his naughty behaviour.
Set 3 – 10 Lines on Janmashtami for School Children
Set 3 is helpful for students of Classes 9, 10, 11, 12 and Competitive Exams.
Krishna Janmashtami is a festival which is celebrated on the day when Lord Krishna was born. It is celebrated in August every year.
People celebrate this festival wholeheartedly. People do many different things through which they try to please Krishna.
Janmashtami is celebrated at midnight, so temples are crowded during midnight. The main reason behind celebrating it at midnight is because Lord Krishna was born in the dark.
People celebrate Krishna Janmashtami by playing with butter as a sport.
The way the sport is played is by filling a pot full of butter and tying it on a high rope referred to as Dahi-Handi. People make two teams and try to break the butter-filled pot.
Janmashtami is a significant festival for those who practice 'Vaishnavism"; where sadhus and sanyasis offer their prayers to the Lord for peace.
On the occasion of Janmashtami, people keep complete fasting, or they eat food that does not include garlic or onion in it.
Different bhajans and kirtans are performed to celebrate the birth of Lord Krishna at midnight.
Radha-Krishna temples all over India are highly decorated with flowers, and lightings and devotees worship and seek blessings of their Lord.
Raas-Lila, short acts based on the story of Shri Krishna's childhood, is played by children, especially in Mathura.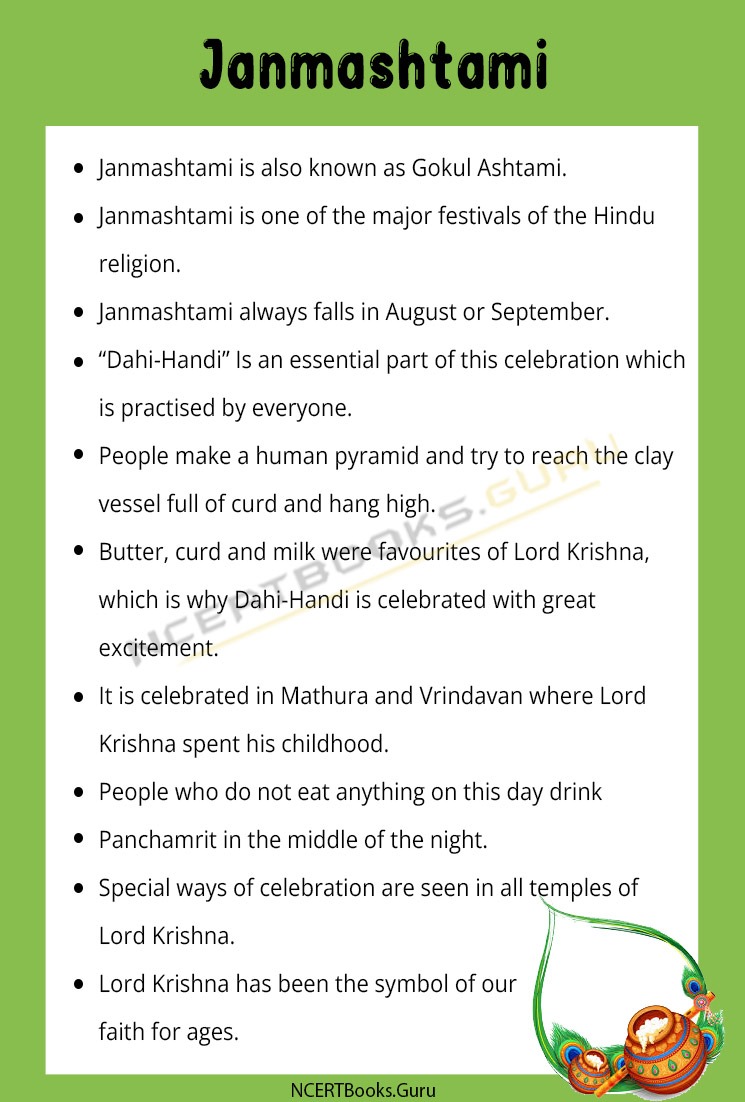 Frequently Asked Questions on Janmashtami
Question 1.
What is the deeper meaning of Janmashtami?
Answer:
There is an exciting belief behind the story of Janmashtami, which gives us knowledge into its deeper meaning. Lord Krishna's mother, Devaki symbolizes the body, while his father symbolizes prana, which means life force. Hence, Lord Krishna demonstrates love. His uncle, Kamsa, represents ego. When the ego takes the upper hand, it attempts to destroy love. The body is feeling uncomfortable, and life feels worthless. However, love also has the power to overcome the ego. When the ego is surrounded by love, they turn inwards, leading to real happiness and pure joy.
Question 2.
Is Krishna Janmashtami the same as Krishna Jayanthi?
Answer:
Yes, it is. Krishna's birth is called Krishna Jayanthi, which means star configuration.
Indian astronomers have kept unique names to lunar phases occurring at individual stars. The place where the moon occurs at Rohini star is called Jayanthi. As the moon was at Rohini star during Lord Krishna's birth, his birthday is Krishna Jayanthi.
Jayanthi refers to 'celebrations', which is the perfect word for describing the environment during Janmashtami.