10 Lines on Importance of Books: It is rightly said that one good book is worth one hundred friends. There is the immense importance of books in our life as they lead us on the right path to achieve our goals. Reading books is a noble habit which everyone should follow.
Finding the perfect book is also one of the essential things that one needs to focus on as choosing a book that is not of your choice or genre can be boring for any person. The book's impact can always be held higher irrespective of the situation as the education gained from the experiences can last a lifetime.
Enhance your vocabulary and writing skills with 10 Lines Essays available. Spark up the creativity in you and access various Topics on 10 Lines all in one place.
Read More: Importance Of English Essay
Set 1 – 10 Lines on Importance of Books for kids
Set 1 is helpful for students of Classes 1, 2, 3, 4 and 5.
Books are our best friends.
We should always read books to know more things around us.
We should properly take care of our books and keep them in proper condition.
Books help us to gain knowledge.
By reading books, we get to learn about new words and ideas.
By reading books, our memory power increases.
We should never fold our books and keep them covered.
By reading books, we can become what we want to be in our life.
Books help us know about the past and present and help us make our future.
We also read storybooks to keep ourselves entertained.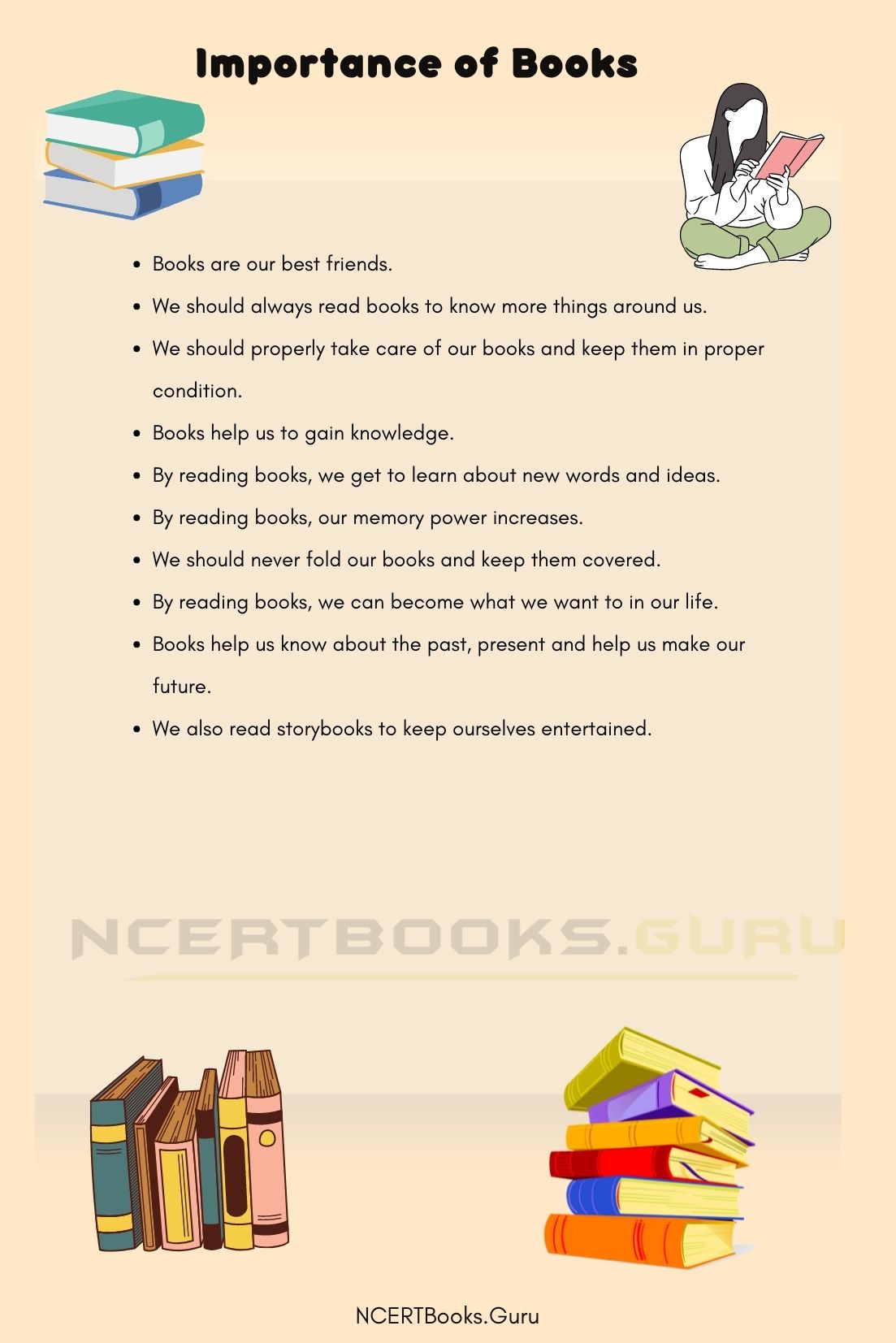 Set 2 – 10 Lines on Importance of Books for School Children
Set 2 is helpful for students of Classes 6, 7 and 8.
We get knowledge from books, they help us guide us to walk in the proper path of life and face the least number of problems.
Reading books help us to improve our confidence as it adds to our learning process.
By reading scientific books, we develop the scientific temperament and know about the technologies, cosmos, life on earth, the chemicals and their uses.
By reading spiritual books like The Bhagwad Gita, Quran, Bible etc., we build our character better and seek inner happiness.
By reading history books, we learn about the pasts of the cities in which we dwell, the state, the nation, and the world's history, so that we can prevent ourselves from committing the same mistakes done in the past.
By reading biographies and autobiographies of great personalities, we learn about their lifestyle and remember to follow their glorious path to succeed in life.
we must take care of the books and not throw it here and after that reading them but keep it properly keep them arranged on the shelves.
Reading books make us wise, intelligent and brainy.
By reading books, we learn so many good things and follow good values to become good human beings in life and help the needy and poor people around us.
Not only this, but books are a beautiful mystery when they are storybooks, which keep our interests on as we delve into it and are entertained.
Set 3 – 10 Lines on Importance of Books for Higher Class Students
Set 3 is helpful for students of Classes 9, 10, 11, 12 and Competitive Exams.
Books, as we all know, are an excellent asset for humans.
Books help us to gain a wide range of knowledge regarding everything around us.
By reading books, human beings' memory power is enhanced, and they get to learn about things and theories they can apply in real life.
If we want to become knowledgeable persons and hold various prestigious jobs, including doctors, engineers, lawyers pilots etc., we must read more and more books.
The books emanate knowledge, adding to our skills and talents.
Students and everyone at every stage of their life can read books and enlighten themselves with things that they do not know, as there is no end to learning.
By reading several books of several languages, we learn about the culture of several places, several regions' language, and enrich our vocabulary.
Reading good books in great numbers helps us analyse our problems and arrive at better solutions in life.
Books should properly take care of after and before reading.
There is no end to books' importance, as they carry the essence of lives.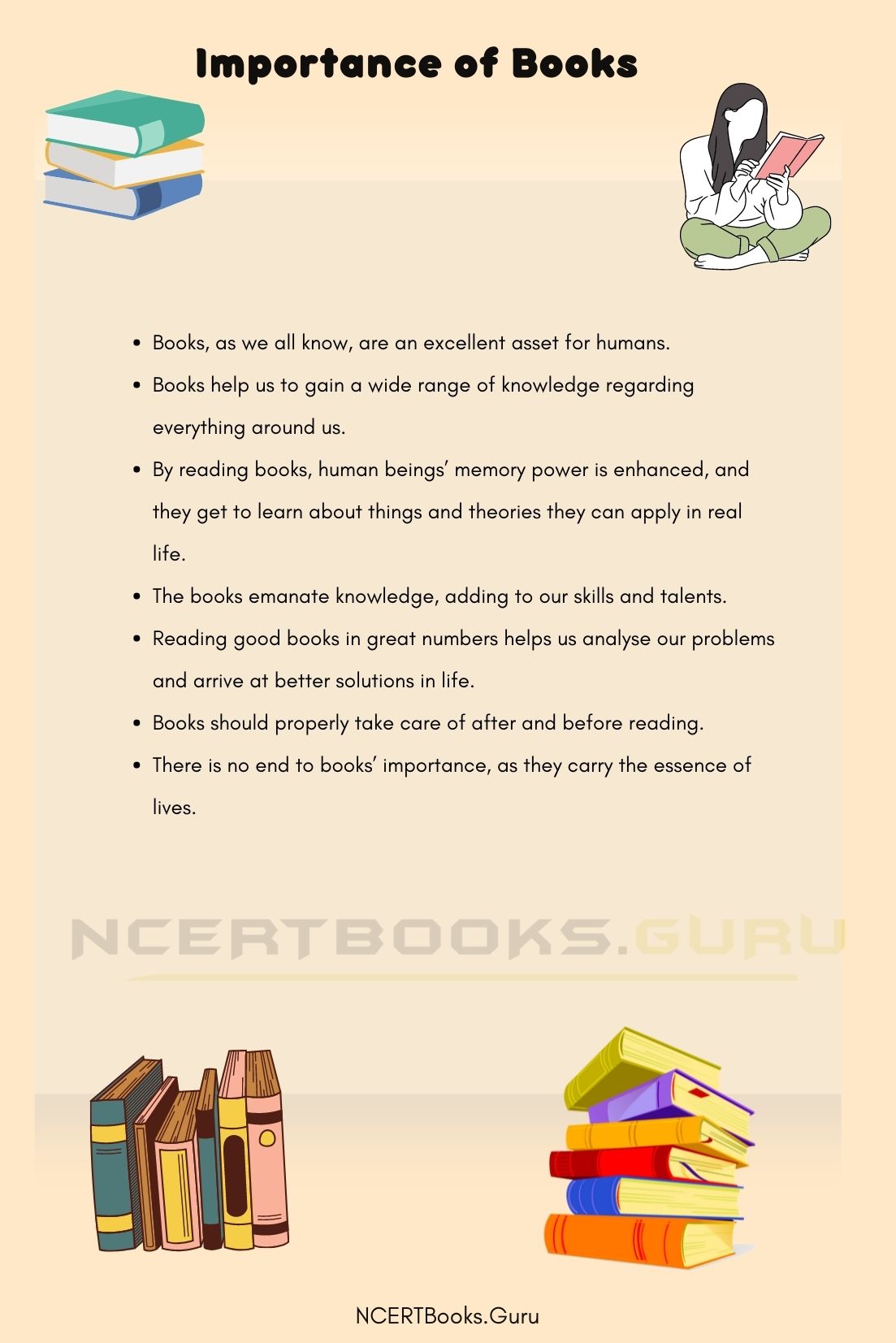 Frequently Asked Questions on Importance of Books
Question 1.
What are the kinds of books that children should read?
Answer:
Since the children are in an age of learning, they should prefer to read the encyclopedia for study and read moral stories to build a good character inculcating all good habits.
Question 2.
What should one do after reading a book?
Answer:
After one has read every bit of the book and no more needs it, he or she should pass it on to a needy and give it for recycling.