10 Lines on How I Spent My Holidays: Every individual the most awaited time of the week, month or year are the days of rest called holidays. Especially for children and students, holidays because of seasonal vacations are exceptional. Holidays are the time when we are liberated from the monotonous routine of our daily work life and can engage in doing something worthwhile.
During the vacation holidays of school and universities, all education activities at paused for a much-deserved break. The sense of delight fills our senses on when we are notified about an upcoming holiday. School, colleges and offices also experience annual holidays on a few particular days of significance, be it a festival or an observation day recorded in that country.
Enhance your vocabulary and writing skills with 10 Lines Essays available. Spark up the creativity in you and access various Topics on 10 Lines all in one place.
Set 1 – 10 Lines on How I Spent My Holidays for kids
Set 1 is helpful for students of Classes 1, 2, 3, 4 and 5.
Holidays are the most incredible time of the year because they allow us to explore new things and relax.
We can get together with our friends and family during the holidays.
All schools and colleges close during holidays.
On short holidays people relax at home and develop new hobbies.
On longer holidays people like to visit their families and friends.
Festivals are the time at which we celebrate our days off with our loved ones.
Holidays are best to give our mind and body some rest from everyday life.
I spent my holidays by attending dancing, painting and karate classes.
During the holidays I also get to travel with my family and friends.
Every student feels very happy throughout the holidays.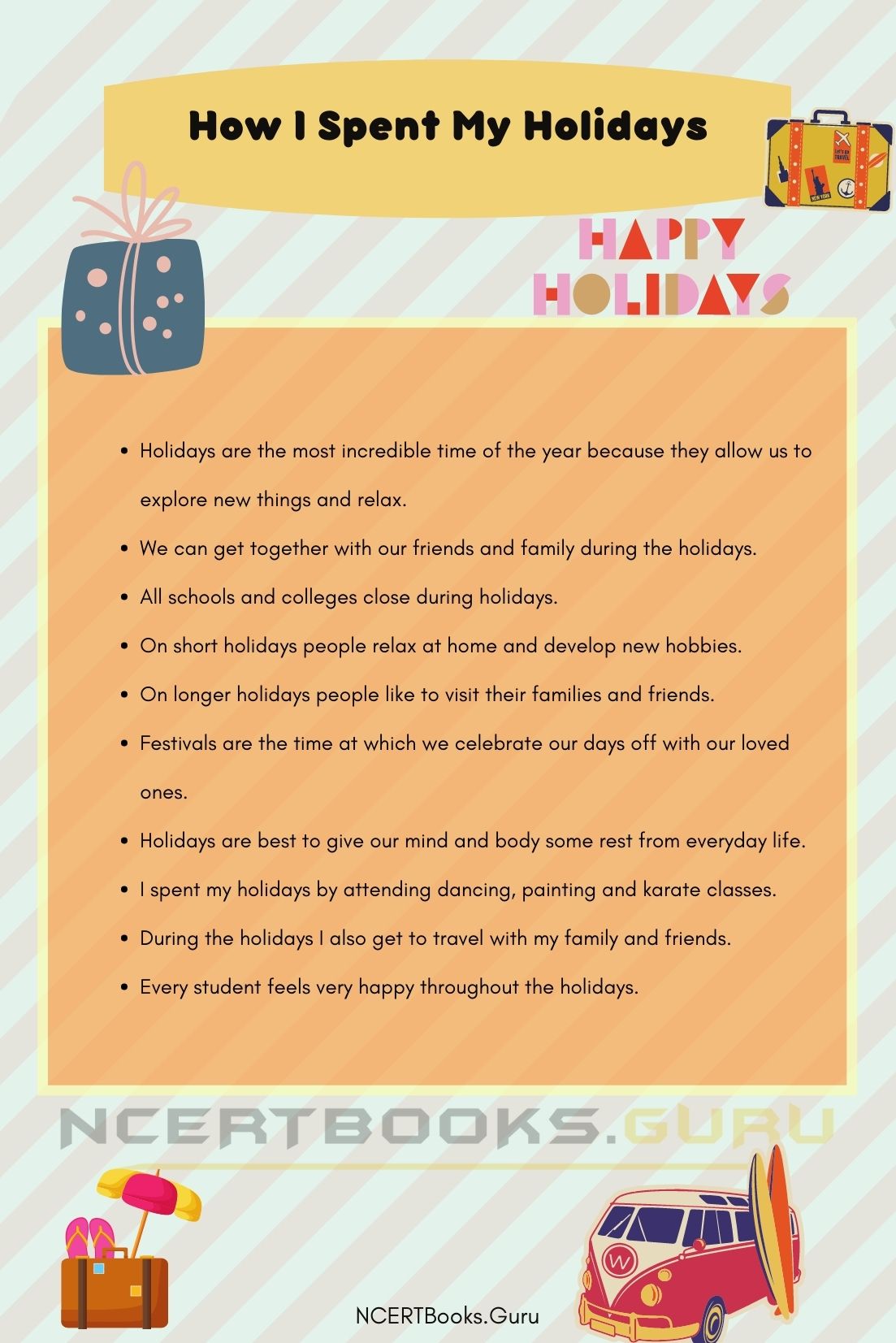 Set 2 – 10 Lines on How I Spent My Holidays for School Children
Set 2 is helpful for students of Classes 6, 7 and 8.
A word that can bring a smile on almost anyone's face is 'holiday'.
It is the much-wanted break when we can deal with our hobbies.
Holidays are a time when families arrange to get together and to know each other better.
Children also get to join different courses and extracurricular activities during holidays.
Schools give holiday tasks to the students so that they stay near their studies.
Holidays allow me to break from my everyday study routine and receive new leisure activities like painting, singing, dancing, and playing around with friends.
During this holiday vacation, I visited my grandparents' place, situated far away from the city.
My cousins visited our grandparents too throughout their holidays, and we went through the entire day playing outside.
I made some excellent memories going through some priceless time with my grandparents.
I feel fortunate to have a loving family, with whom I loved spending my holidays.
Set 3 – 10 Lines on How I Spent My Holidays for Higher Class Students
Set 3 is helpful for students of Classes 9, 10, 11, 12 and Competitive Exams.
Holidays revitalize one to work with more commitment and innovation.
There are religious holidays, vocational holidays and national holidays.
A few people like to spend their vacation at home, merely sitting back and relaxing.
A holiday is likewise useful in encouraging games exercises like swimming, badminton, cricket, etc.
One should consistently attempt to spend the holidays in fruitful and productive exercises.
This holiday season we took a two days hill station trip.
I persuaded my parents for a short outing since I needed to spend the remainder of my late holiday in a study camp.
Through the study camp, I learned new things about all the subjects, and it was a very fruitful time.
Most of the time, we spend holidays sitting idle, and we simply watch movies or play computer games.
But this holiday was significant for me as it taught me how to use my leisure time effectively.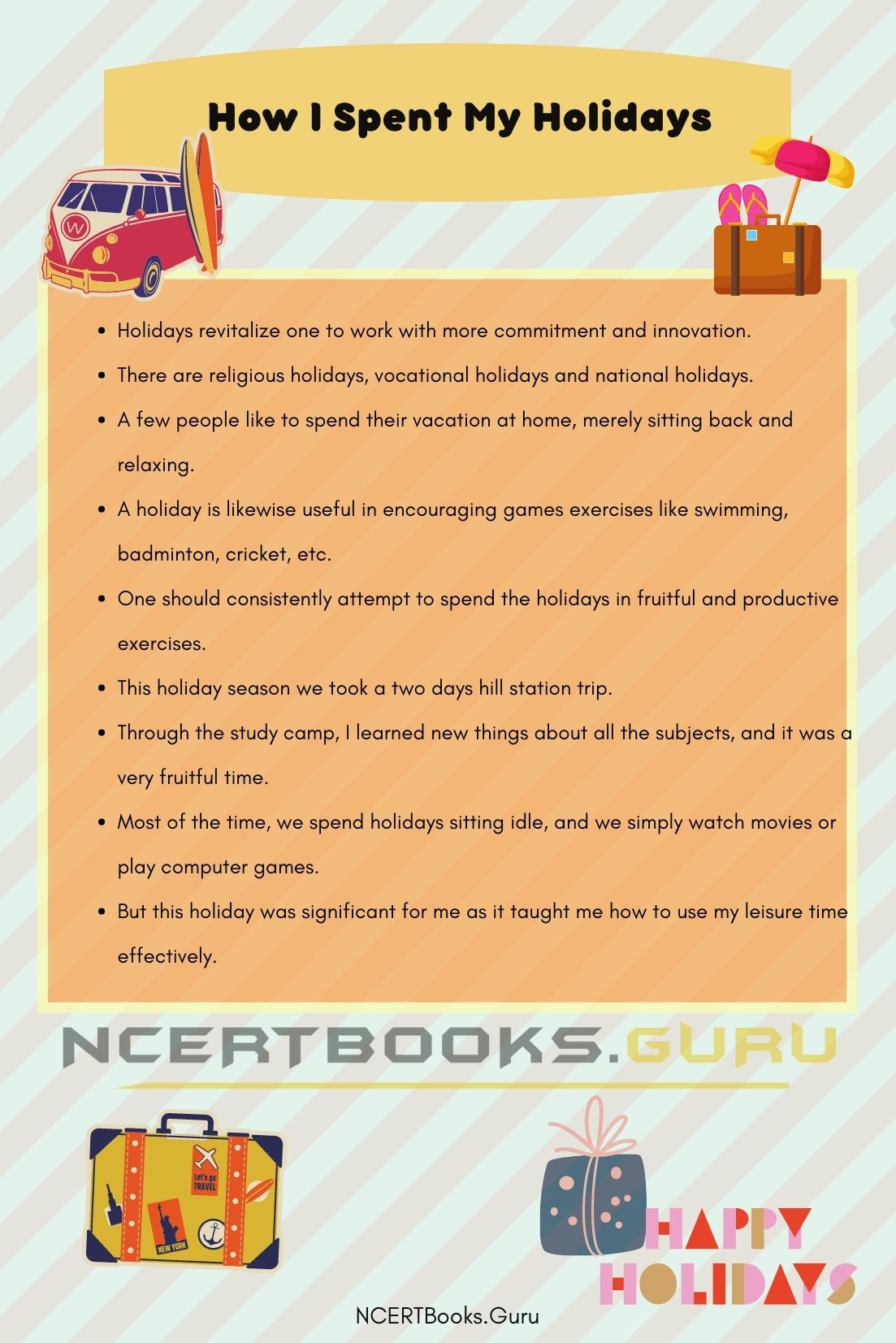 Frequently Asked Questions on How I Spent My Holidays
Question 1.
How can someone spend their holidays to get the absolute best benefit out of holiday break?
Answer: 
One can spend time with family and friends, try out a new skill, get plenty of sleep, do something memorable and enjoy to get the best out of the holiday break.
Question 2.
What can someone learn during holiday breaks?
Answer: 
Students of schools and colleges can learn lots of things during their holiday break by watching educational videos, learning a new language, volunteering, setting goals for the upcoming semester or getting a job.
Question 3.
How can someone spend their holidays with their family?
Answer: 
One can spend some quality time with their families during holidays by going on a trip and making food memories with their families.
Question 4.
Why should one spend their holidays with their families and friends?
Answer: 
Vacations with family and friends help us relax, reconnect and recharge with our families and friends. They provide an opportunity to expand social awareness, learn through experiences, and learn about different cultures.