10 Lines on Honesty is the Best Policy: Honesty is the best thing that everyone around us could love to appreciate. Honesty comes with one's view of acknowledging the situation and its related surrounding. It is not an inbuilt phenomenon, but it is a self-development process that you develop around your people. Being honest can lead you to the journey of praise and respect. You earn so much value in your life when you imply to tell or live on the path of honesty.
Honesty is something that you can sleep a complete guilt-free sleep at the end of your day when you put your effort into it. It is a pleasure that you get when you can feel low at some point in your decision. Honesty is something that will always keep you on track. You can stay right on your path, even if you are in a tuff situation. When you are an honest person in your society, you bring many other characters to the community.
You shine as a truthful, loyal, and confident person. You show your courageous nature of speaking the truth. There is no question of being at stake when you choose yourself the path of honesty. So it is no doubt that you can gain a lot of respect and dignity if you walk on the way of honesty and make it your prime policy in your life.
Enhance your vocabulary and writing skills with 10 Lines Essays available. Spark up the creativity in you and access various Topics on 10 Lines all in one place.
Set 1 – 10 Lines on Honesty is the Best Policy for kids
Set 1 is helpful for students of Classes 1, 2, 3, 4 and 5.
Honesty is the self-reflection of being truthful and loyal.
Honesty is something that you learn from your surroundings.
Honesty also develops from family values and education.
When you build honesty, you create a courageous person inside you.
Honesty can change the world of corruption.
Being honest will give you a lot of respect from society.
People who speak honestly live a happy and peaceful life.
Honesty will outshine your other character.
Honesty should be one of the practices that everyone should follow.
Being honest can start at any time and any place.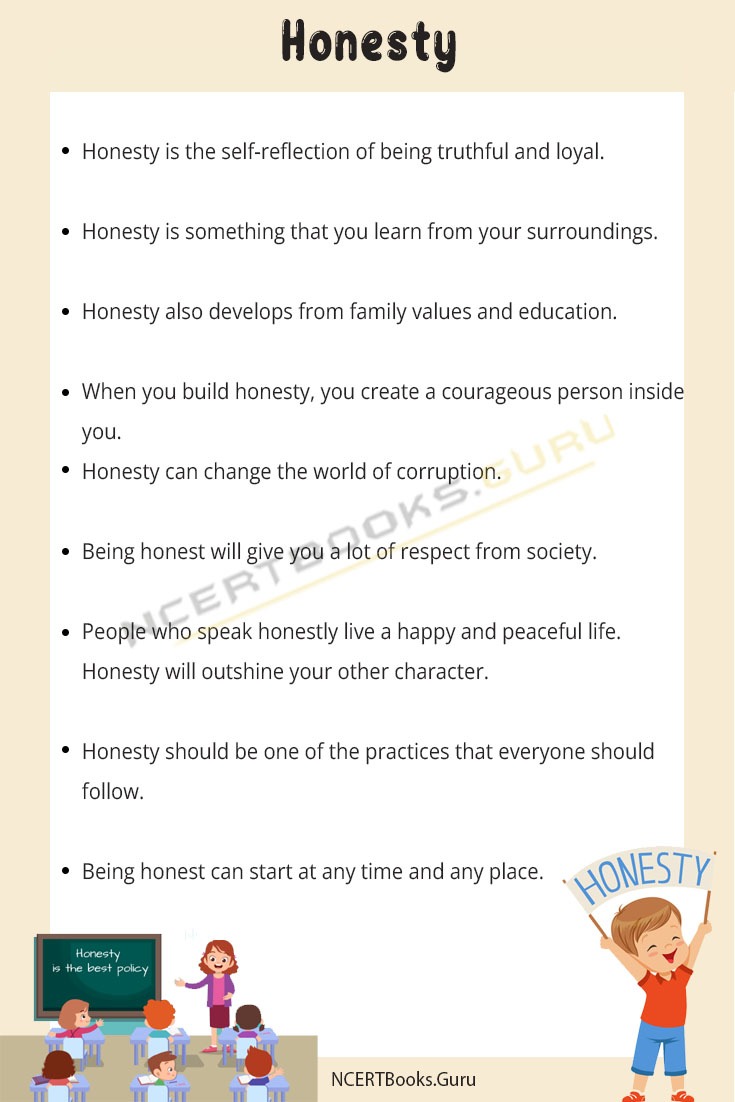 Set 2 – 10 Lines on Honesty is the Best Policy for School Children
Set 2 is helpful for students of Classes 6, 7 and 8.
Honesty reflects the inner pureness of a person.
being honest makes you fearless and gives you courage in fighting in a very odd situation.
Honesty helps you in developing a powerful personality.
Honesty is one of the crucial factors for an efficient leader. Thousands of followers look at the leader's words of honesty.
Honesty gives you a life of simple, carefree living.
All of you should make a habit of living on a direct path, helping you have a peaceful life.
"Honesty is the best policy," which Benjamin Franklin said the first time.
Honesty is something that will always give you the support of moral strength.
Being honest will always help you in having an unmistakable personality.
Honest person never fears to take punishment.
Set 3 – 10 Lines on Honesty is the Best Policy for Higher Class Students
Set 3 is helpful for students of Classes 9, 10, 11, 12 and Competitive Exams.
High morals come with truthfulness, and this comes with being honest.
You can always trust an honest person by closing your eyes.
Being honest will always give you positive aspects of life.
Honesty is the only way through which you can keep yourself out of misfortune.
An honest person always does their work, with lots of dedication and hard work.
Honest person never gives false accusation or false opinion on any situation.
An honest person is the one who reflects his/her character as full of dignity and high morals.
Honesty is the rare kind of character that anyone could hardly found in anybody.
being honest is always helpful in facing negative people in society. You live a life of dignity and respect. You do not have to worry about false opinions.
Being honest will always keep you out of trouble. You learn to keep your head high up in front of others.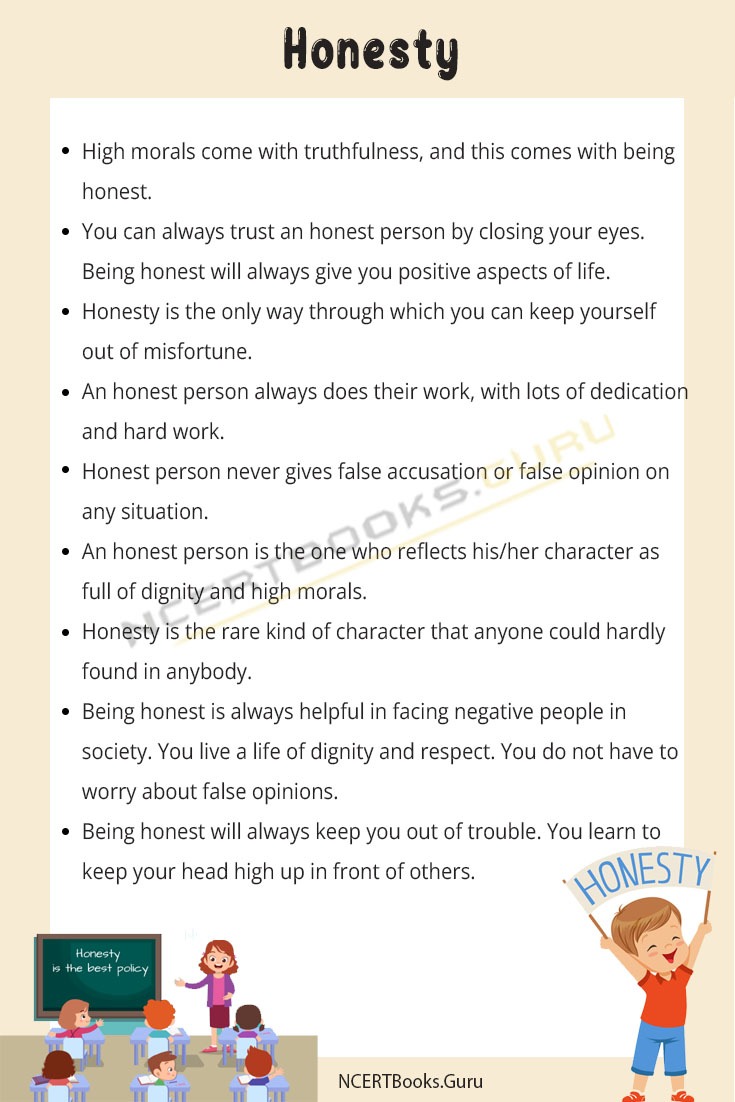 Frequently Asked Questions on Honesty is the Best Policy
Question 1.
what is the advantage of being honest?
Answer:
there are many advantages that you can find when you choose your path, in honesty. You get respect. Love, care, dignity, and you get free from anxiety, stress, and depression.
Question 2.
how to continue your honesty?
Answer:
honesty can be maintained by being true to yourself, being tactful, understanding the other person's intentions, and there are a lot more.