10 Lines on Healthy Habits: Good habits are those habits that one must inculcate in their lives that improve their personality and develop specific competencies. There are specified good habits that one must observe, and the key to having a successful, happy and contented life is to be consistent with the following of these good habits.
Enhance your vocabulary and writing skills with 10 Lines Essays available. Spark up the creativity in you and access various Topics on 10 Lines all in one place.
Set 1 – 10 Lines on Healthy Habits for kids
Set 1 is helpful for students of Classes 1, 2, 3, 4 and 5.
Patience, kindness and empathy are among the most crucial good habits that children should be taught about.
Accomplished people such as Sachin Tendulkar, Bill Gates,  Amitabh Bachchan or Narendra Modi are disciplined and dedicated to their work.
Good habits lead our society a better place to live in.
Respecting elders is one of the good habits that should be taught to children's fundamental for their childhood.
Getting early to bed and early to wake up is a prescribed habit of preserving a healthy body and mind.
Good habits such as taking a bath early in the morning, brushing your teeth twice a day, eating healthy food in a designated time are essential to teach and practise discipline in life.
Schools and teachers should apply a certain kind of punishments for students who exhibit bad habits.
Being disrespectful to elders, not following the lessons that are taught in class, skipping meals and eating junk food are a few bad habits
Children should help their parents with household works such as washing clothes or utensils or getting grocery from the store.
Children should always maintain cleanliness.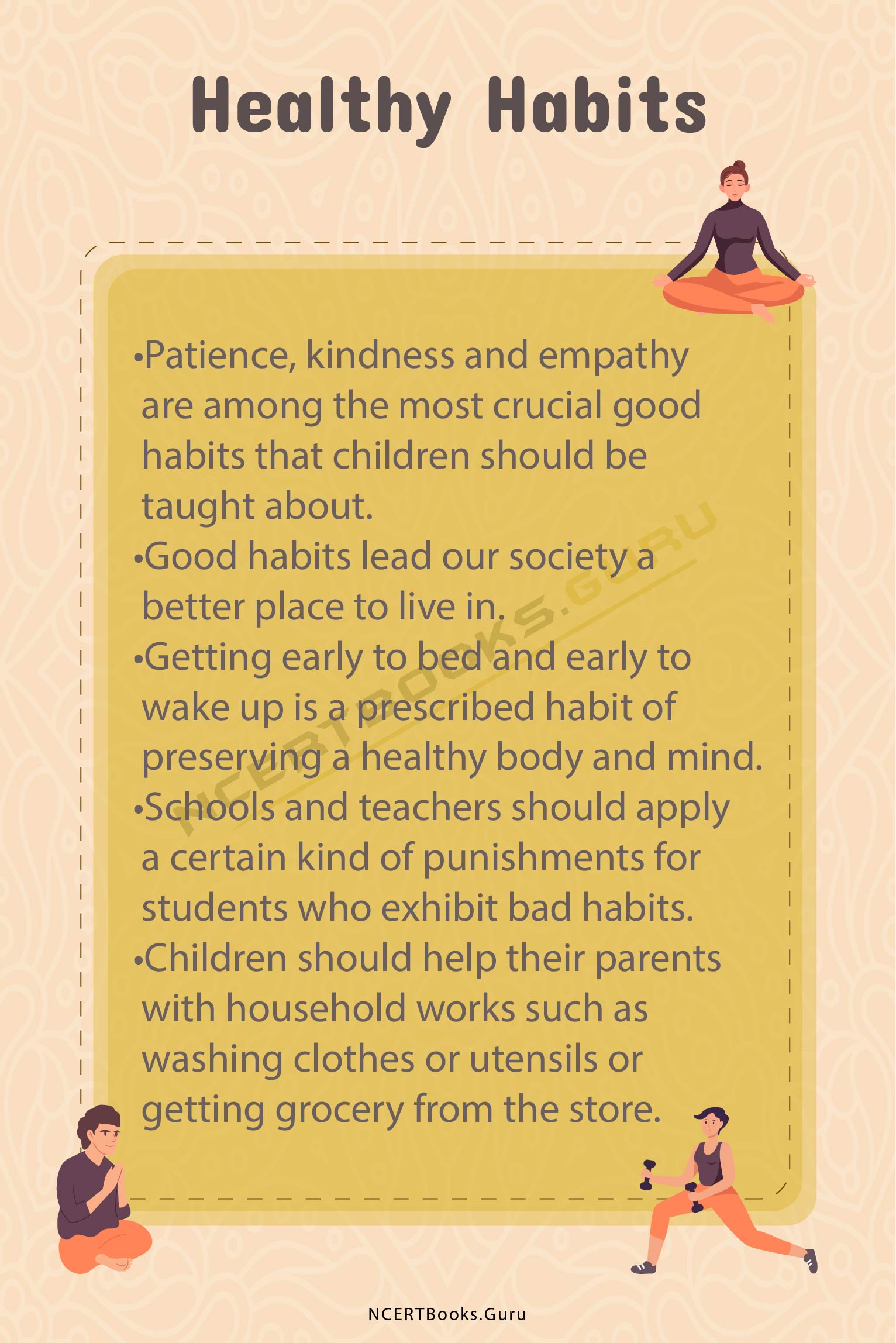 Set 2 – 10 Lines on Healthy Habits for School Children
Set 2 is helpful for students of Classes 6, 7 and 8.
Good habits have the ability to change our overall personality and give a different outlook on life.
Self-criticism and self-loathing is one of the bad habits to have because it affects our mental status.
Good habits shouldn't be forcefully implemented, and it should become our part of life as and when we practice it every day.
Given the rising competitive atmosphere worldwide, it becomes essential for us to become a compassionate and kind society.
Suicide rates in India are higher than the world, and this picture gives us a picture of the state of affairs of mental status in India.
Due to distinct reasons beyond our control, most of us develop a few bad habits such as smoking and drinking, and it is never too late to give up mentioned bad habits.
Medical and professional help is crucial to let go of bad habits, such as drinking and smoking.
A disciplined life makes way for a clutter-free life and gives us mental peace in our daily activities.
Accomplished people such as Jeff Bezos or Warren Buffet say that mental health is one of the most crucial things for proper decision making.
It will be impossible to locate even one person on the planet who has no bad habits, and hence lousy habit is not the end of the life, and it can be eliminated through a systematic and disciplined way of life.
Set 3 – 10 Lines on Healthy Habits for Higher Class Students
Set 3 is helpful for students of Classes 9, 10, 11, 12 and Competitive Exams.
Due to the growing social media platform engagement on the internet, cyberbullying has been hiked up in India's countries.
Cyberbullying is a new form of a bad habit that affects the mental health of not only kids but also adults worldwide.
Increased utilization of smartphones and laptops will take a price on our mental health.
Specific experts also say that radiation from our smartphones can hurt our mental and physical health.
If a person has bad habits and an evil character in nature, they would likely find it hard to make friends and evolve a network in their professional career.
Digital Detox or social Detox is a phrase that people utilize, to get away from the toxic and resentment-filled social media to make their minds clutter-free and peaceful.
Financial discipline and managing money are among the most important good habits that are usually not part of our schools and colleges but are a crucial prerequisite to live a happy life.
Helping others will provide a sense of purpose to our lives, and hence empathy and kindness should be taught in schools for children.
As the saying tells, honesty is the best policy, and one should always speak the truth, no matter the consequences.
Punctuality is something that we Indians can grasp from the Japanese, and being punctual is one way of showing respect to another.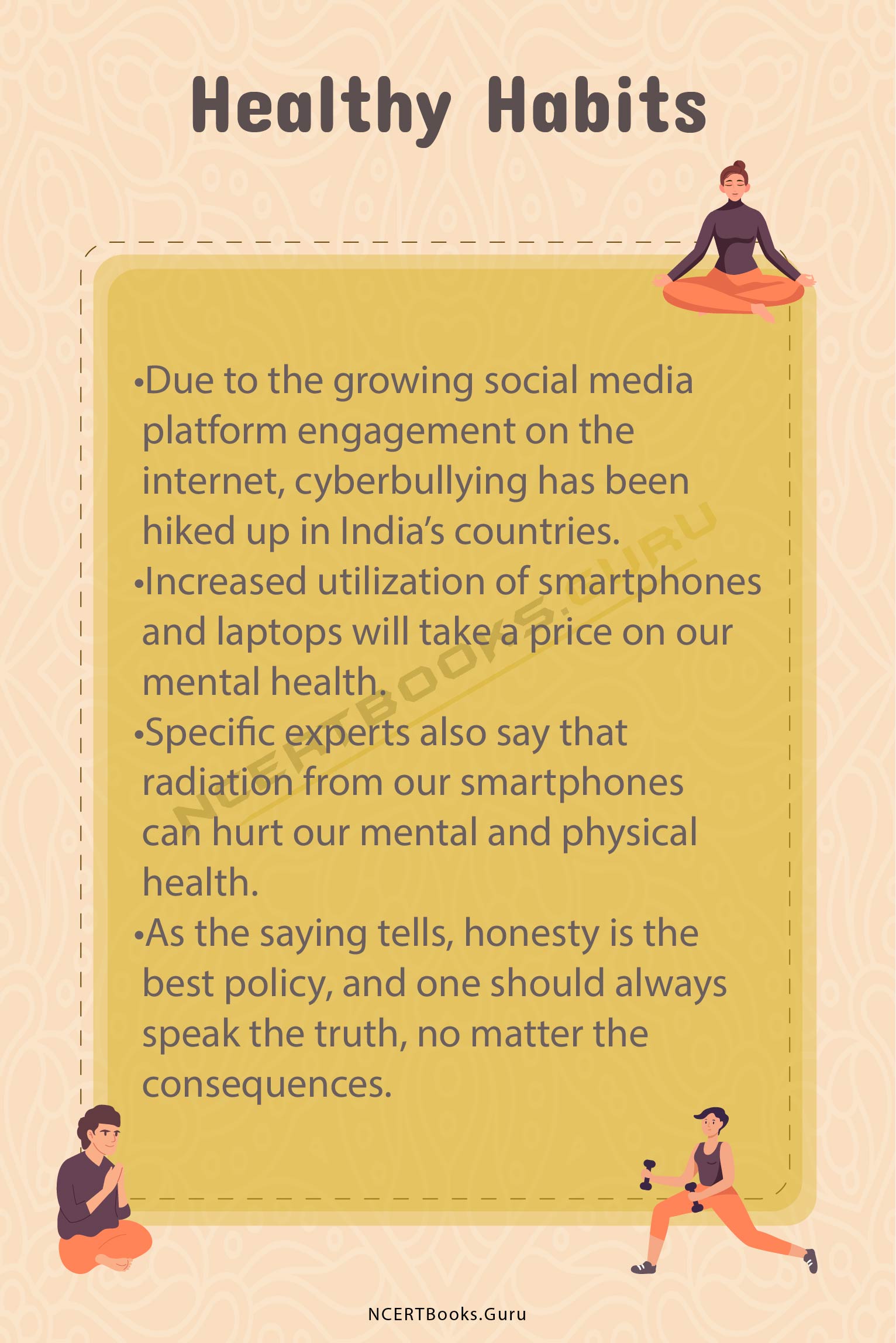 Frequently Asked Questions on Healthy Habits
Question 1.
State any five good habits that one should teach in their life.
Answer:
Punctuality, spirituality, gratitude, dedication and discipline are good habits that one should teach in their lives.
Question 2.
What are a few good habits to teach children?
Answer:
Good habits that parents or teachers can educate children to admire elders, cleaning up their rooms, being responsible with money, dividing things with their friends and family and eating healthy food.