10 Lines on Hard Work: People say that when you work hard, you can achieve anything. Since childhood, it has been told to us, and maybe that is why it has lost its importance. Many of us think that we are working very hard, but the result is still zero. The problem lies in the perspective of hard work definition. We believe that getting good grades, a good job is hard work. However, what we do on top of all the things we are supposed to do is hard work. Hard work is what you do after your day is done. You think that going to school and getting your homework done is enough, however, did you ever think of studying a little more out of the syllabus or trying a new hobby that is not made for you. Hard work is what you do above and beyond.
Here, we have assembled three sets of ten lines on hard work that will help you reach your goal and understand its true meaning.
Enhance your vocabulary and writing skills with 10 Lines Essays available. Spark up the creativity in you and access various Topics on 10 Lines all in one place.
Set 1 – 10 Lines on Hard Work for kids
The first set of hard work is for the students of classes 1, 2, 3, 4, and 5, which will help you understand the true meaning of hard work.
Success and knowledge are one's own, and no one can steal them. However, that only comes with work one puts in his work.
Completing your daily tasks will not help you to reach your goal; it is the little extra effort you put on every day after your work is completed.
It is impossible for a lazy person to reach their goal and is a curse; on the contrary, hard work is a boon.
Some people consider it their good luck when they easily achieve success; however, it is a short-lived success. With hard work, one can achieve permanent success and happiness.
When a person makes it his purpose to work hard under any circumstance and doesn't stop under any king of influence, he is truly the one to achieve success truly.
We have always been taught to keep on trying and never stop believing in ourselves, as hard work is the definition of not, not trying until you reach your goal.
It is important to have a target before you start working hard, aimlessly working towards nothing will take you nowhere.
Human beings are the best creation of God, but the same person turns lazy on himself.
There are many living examples of extremely poor people, but with hard work and dedication, they could change their fate.
Is not only an individual but also a developing country like China could turn its fate with hard work and is now next to the United States of America.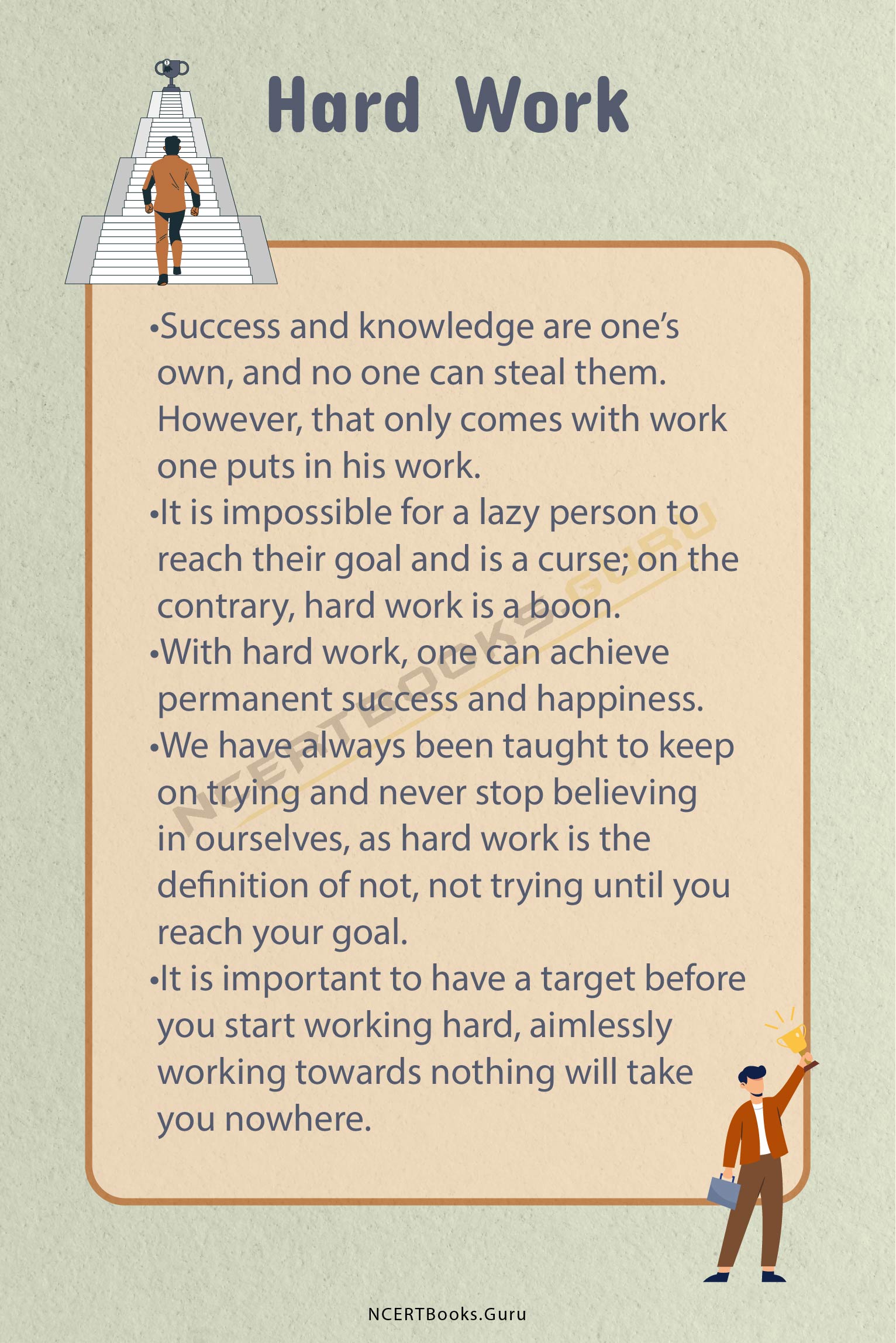 Set 2 – 10 Lines on Hard Work for School Children
The second set of hard work is for the students of classes 6, 7, and 8.
It takes a lot of hard work to grow crops and grains in fields by the farmers.
In India, the Britishers ruled for two hundred years until our freedom fighters worked hard to free us from slavery.
Hard work is always challenging, and worldly pleasures will still want to bring you down and distract, but it is not impossible to do hard work.
Determination, honesty, and dedication will help people reach their goal easily and work hard in life.
It takes a lot of passion for working hard towards your target, and it is not easy to achieve anything without determination. The man who works with vigour and love is sure to achieve their goals.
An optimistic man can easily reach their goal, and his character and purpose resemble the type of person he becomes in the long run.
It is not hard to achieve happiness in life; however, if you aim for success, you might need a lot of hard work.
A lazy man will eventually lead to a life of sorrow and sluggishness. However, the same man can earn a lot with hard work and dedication to a particular goal.
Hard work can get you to respect society and success, it will raise your social status, and people will listen to you.
A hard-working person can achieve her goal and become successful. She can also inspire others to work hard with dedication and set goals in life.
Set 3 – 10 Lines on Hard Work for Higher Class Students
The third set will help the students of classes 9, 10, 11, and 12. It will help them to focus on their studies and work hard in life.
It takes a lot of hard work to focus on studies and become successful in life.
Every child must be taught the importance of hard work in every sector of life, and they must understand the concept of it to earn respect and get happiness in life.
Hard work is a lot more than getting good grades, getting a job, doing your daily chores, and be a good child to your parents, it is about the extra effort you put into becoming better than others.
Every child needs to have a goal in life that will help them to focus and work hard. It will also give them a purpose to wake up every day with a purpose in life.
Students with mediocre grades and intelligence can also reach success, but they need to work hard and focus on life.
Planning, vision, and aim are the three main components of hard work that will help a person to be successful in life and focus on what is important.
Any work that you do beyond your time of daily work is known as hard work.
Many people work in mills and mines and work double shifts to earn extra money, which can be considered hard work.
Students who focus on their goal and are determined to achieve it, never fail to become successful.
If a person is working hard, they will require everyday motivation to do so, and who else can provide that best other than parents.
Hard work requires inspiration, dedication, focus, and a never give up attitude. It takes a lot of determination to stand on your thoughts and reach your goal.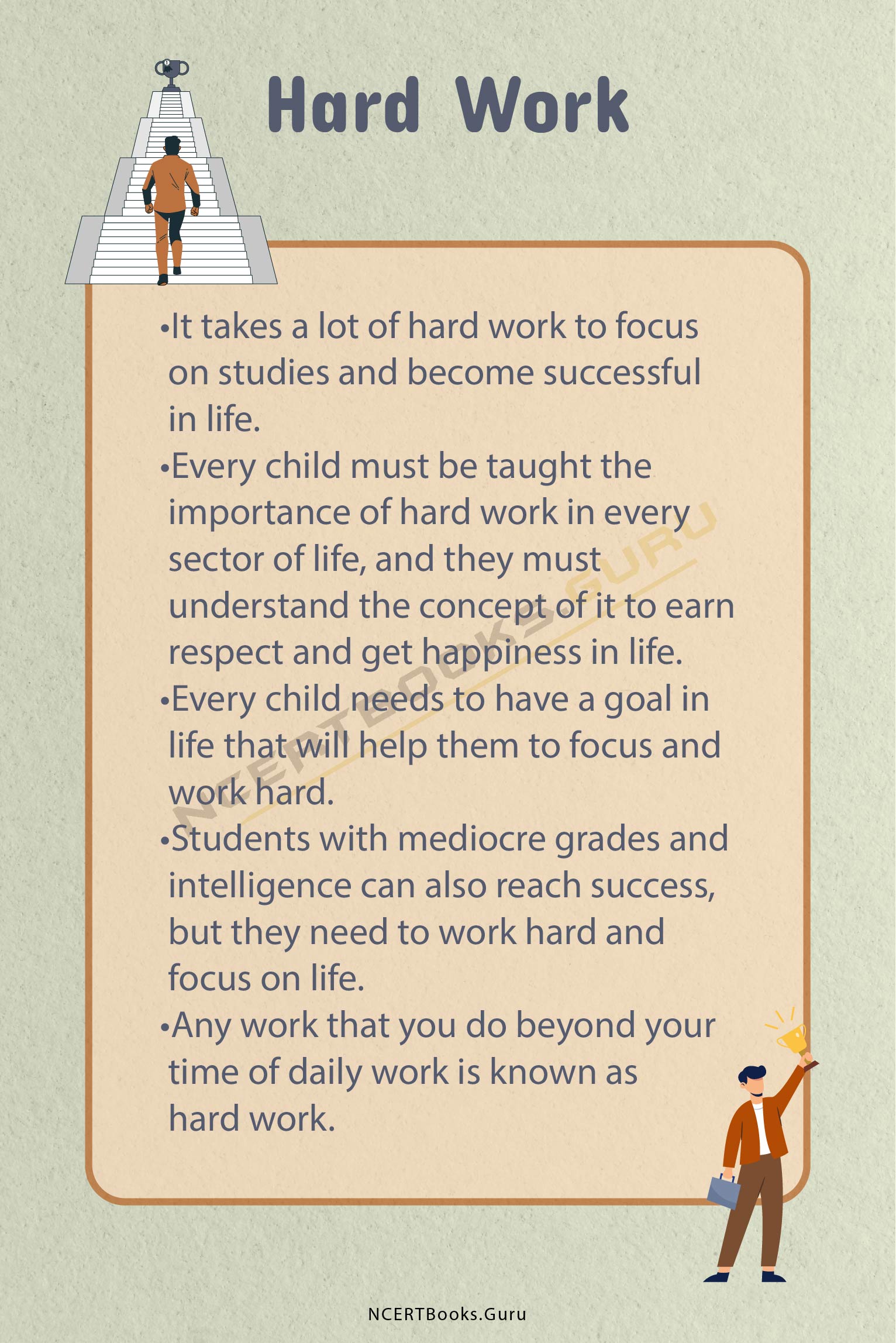 Frequently Asked Questions on Hard Work
Question 1.
What is hard work?
Answer:
The passion and vigor that a man puts to get a job done are called hard work.
Question 2.
How is hard work and success relatable?
Answer: 
Hard work and success is very much relatable as without hard work, it is not possible to become successful.
Question 3.
"Hard work leads to success"- Is it true?
Answer:
Working hard has its way of rewarding oneself and success is the ultimate gift.