10 Lines on Guru Nanak Dev Ji: Sri Guru Nanak Dev Ji (1469 –1539) was the creator of the Sikh religion. He was also the first of the ten Sikh Gurus. The last Guru had stated that there should be no more Gurus after him. He said Sikhs would be taught by the Sikh holy book called Guru Granth Sahib Ji. In many Indian languages, the word "Guru" means "teacher".
Guru Nanak Dev is believed to be holy by Punjabi Hindus and Sahajdhari Sindhis across the Indian subcontinent, beside the Sikhs. His primary teaching to the world was "devotion of thought and having good actions as the first of our jobs".
Enhance your vocabulary and writing skills with 10 Lines Essays available. Spark up the creativity in you and access various Topics on 10 Lines all in one place.
Set 1 – 10 Lines on Guru Nanak Dev Ji for kids
Set 1 is helpful for students of Classes 1, 2, 3, 4 and 5.
Guru Nanak Sahib was known as the first Guru of the Sikhs.
Guru Nanak Dev Ji was born on 15th April, 1469, in a village called Talwandi.
His father's name was Mahita Kaluram Ji, and Guru Nanak's mother's name was Tripta Devi.
He had a sister named Babe Nanaki.
He had always been in devoted to God, since childhood.
Sukhani Devi, the daughter of Moolchand, was the wife of Guru Nanak Dev Ji.
Shri Chand and Lakhmi Das were his two sons.
Festival of Guru Nanak Jayanti falls in 'Katak' month as per Nanakshahi calendar.
Sikhs celebrate Guru Nanak Jayanti on the day of the full moon of the Kartik Purnima.
Guru Nanak Jayanti is a significant festival celebrated by the Sikhs in India and abroad.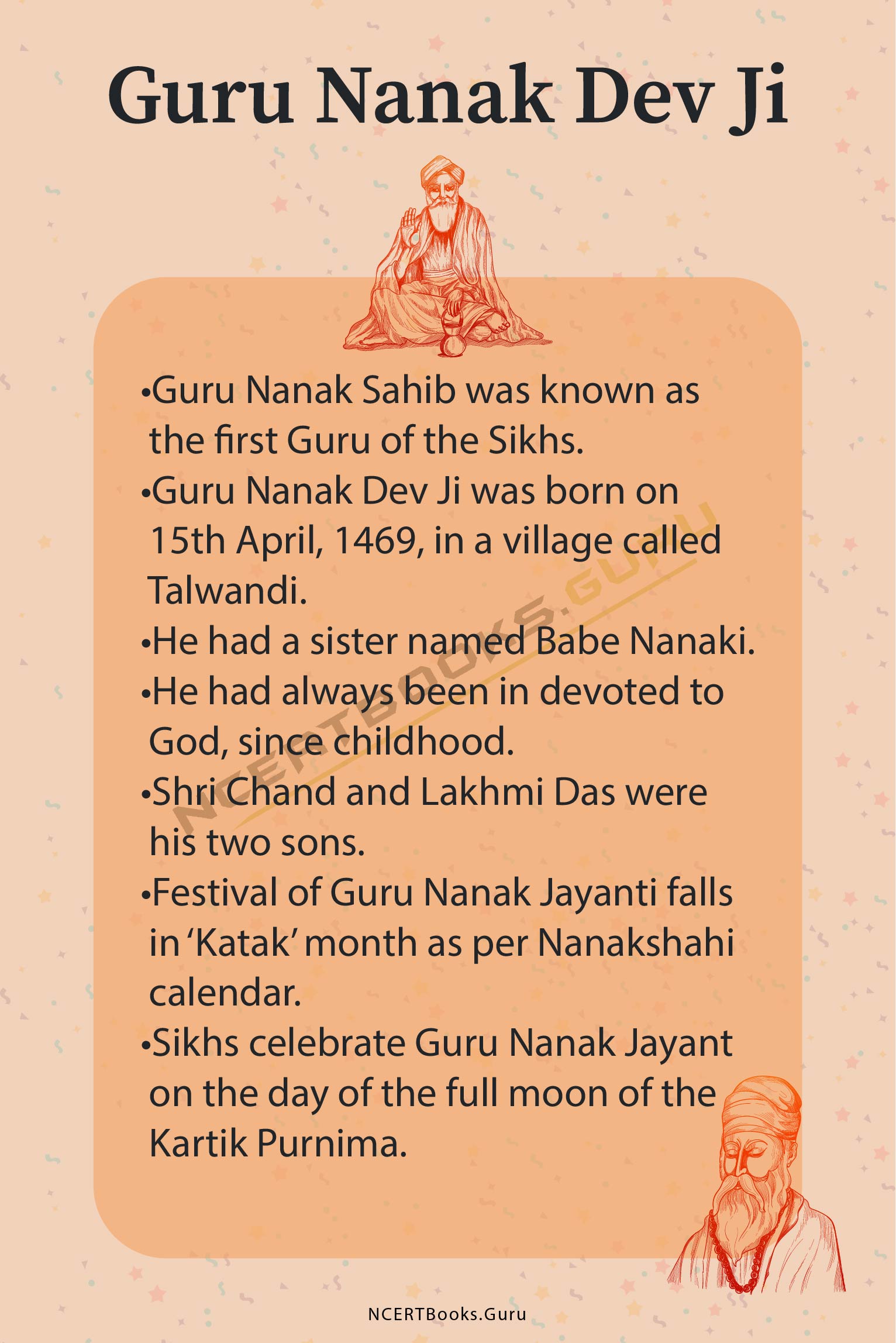 Set 2 – 10 Lines on Guru Nanak Dev Ji for School Children
Set 2 is helpful for students of Classes 6, 7 and 8.
Guru Nanak Dev Ji was born in Talwandi village, Shedkhupura District, Punjab.
He is known for his countless great works.
Annually, in the day of Kartik Purnima is celebrated as Guru Nanak Jayanti.
Guru Nanak is widely remembered for sharing and preaching the knowledge of communal unity, truth, peace, harmony.
He is credited for establishing Sikhism because he was the first guru of Sikhs.
He passed away on 22nd September 1539, in Kartarpur, Mughal Empire, Pakistan.
He is known for his excellent objective knowledge.
Guru Nanak Jayanti, is also known as Gurpurab
Guru Nanak preached his principles and rules and had taken the form of a monk. Guru Nanak Ji preached to help the weak.
Guru Nanak Ji was against distinction, idol worship, and religious beliefs. He went to many Hindu and Muslim places of religion to preach his ideas.
Set 3 – 10 Lines on Guru Nanak Dev Ji for Higher Class Students
Set 3 is helpful for students of Classes 9, 10, 11, 12 and Competitive Exams.
Guru Ji was born on 15th April 1469, in Talwandi, Guru Nanak Dev Ji was the founder of the Sikh religion.
The Pandits after his birth predicted that he would be in the trail of religion and that all would receive equal respect from both Hindus and Muslims. Dharnjan never interested Guru Nanak Dev Ji.
Once his father sent him to Lahore for business with twenty rupees, he used this money to feed some sadhus he found on the way.
When he was sent out for trading purposes, he always used up all his money, feeding and taking care of the poor and miserable.
He was married toMata Sulakhni at eighteen and later had two sons, Sri Chand and Lakshmi Das.
Due to his close connection with Hazrat Sheikh Farid-ud-din Ganj Shakar, the Punjabi Sufi saint, Nanak Dev Ji is also considered by many Muslims to be a Sufi, or believer of Sufic tenets.
Guru Ji arranged langars where rich and poor everyone cooked and ate food in a kitchen.
Guru Nanak Dev Ji integrated all the goodness and merits of Hinduism and Islam into the Sikh religion.
He wrote and composed 'Japuji Sahib' for Morning Prayer and 'Rahras Sahib' for evening time in the year 1538 AD, at the age of 70, he became absorbed in the divine.
Guru Ji's message and principles were carried forward and preached by his disciple Angad.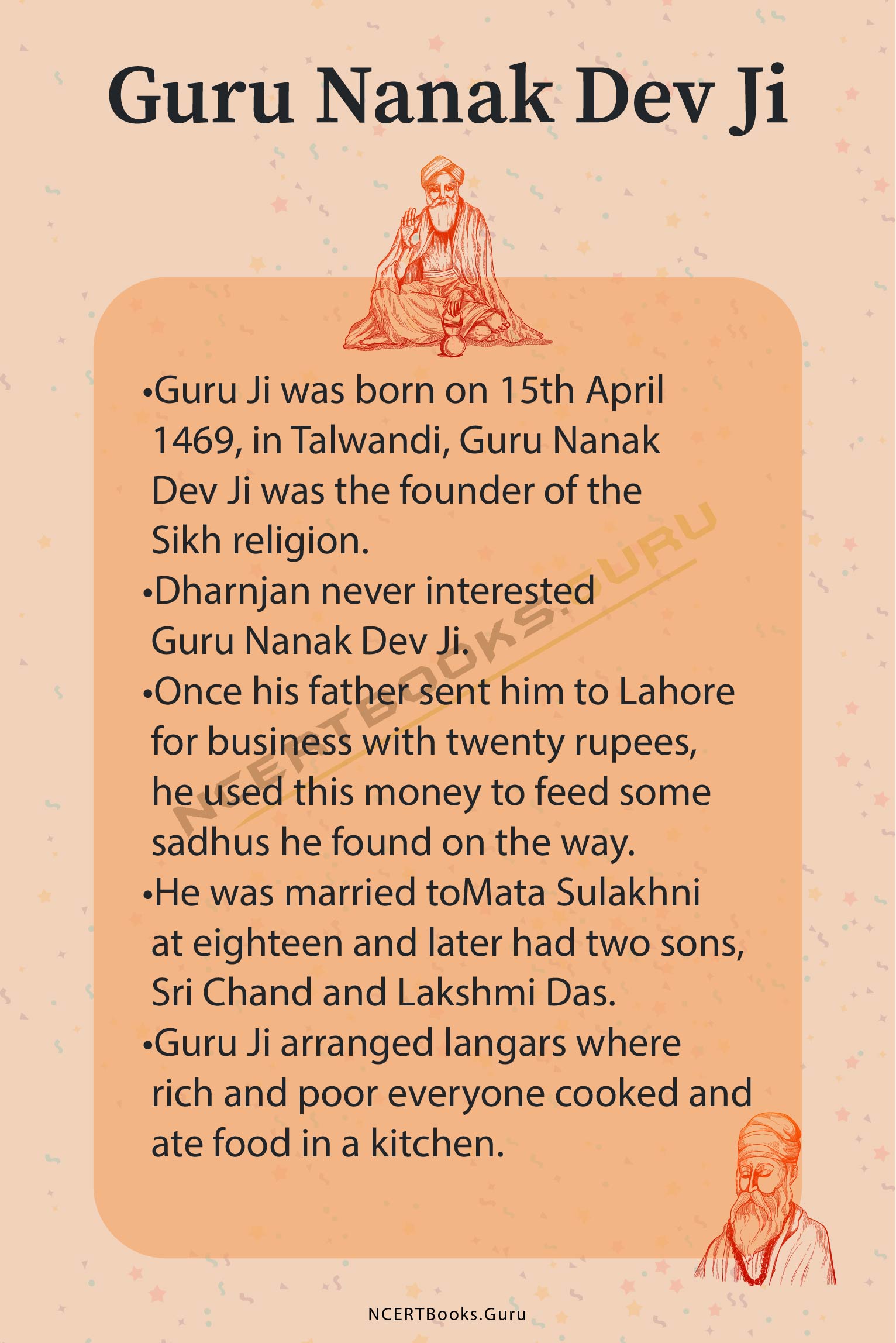 Frequently Asked Questions on Guru Nanak Dev Ji
Question 1. 
Why is Guru Nanak important?
Answer:
Guru Nanak was one of the greatest religious innovators of all time and the founder of the Sikh religion. His family were Hindus, but Nanak studied Islam and Hinduism extensively. He displayed great ability as a poet and philosopher.
Question 2.
Is Guru Nanak a God?
Answer:
No, but it has a crucial concept of Guru. Guru Nanak was not an incarnation of God, not even a prophet. He is an illumined soul.
Question 3.
Who is God in Sikhism?
Answer:
Sikhism is a monotheistic religion, which means Sikhs believe there is only one God. Sikhs believe God is present in creation. God can not be defined as the universe but is the life within it, its driving force.
Question 4.
Where is Guru Nanak buried?
Answer:
Gurdwara Darbar Sahib Kartarpur.