10 Lines on Eid: Eid or Eid-ul-Fitr is considered one of the greatest festival of the Muslims people. All over the world, the Muslims do celebrate it with great show, pomp, gusto and zeal.
This festival actually marks the end of Ramadan. Ramadan is known as a holy month of fasting. Before sighting the moon of 'Ramzan', the Muslims observe fasts for a full month.
The festival of Eid is celebrated the next of sighting of the moon. Every year this moment comes off on the first day of the month of Shawwal. It is a day of merriment, festivity and feasting.It is a festival of love and true goodwill. The festival gives us a message to hate none and love all. It teaches us to embrace all men around us as brothers.
Enhance your vocabulary and writing skills with 10 Lines Essays available. Spark up the creativity in you and access various Topics on 10 Lines all in one place.
Set 1 – 10 Lines on Eid for kids
Set 1 is helpful for students of Classes 1, 2, 3, 4 and 5.
After the Ramadan, Muslims celebrate Eid Ul Fitr.
Eid comes after one month of fasting, so people mostly celebrate this day with immense joy.
In the morning of Eid, people go for Prayer.
And then they start visiting relatives and neighbours house.
Every one of the family as well as a society for this occasion, come together.
People do charity for who are poor and needy on the day of Eid.
They make sure everyone around them is enjoying the day of Eid.
Eid is the best occasion to spend time with family and friends.
On the first day of the Arabic Month Shawwal is called Eid.
Muslims pray for the entire people world to stay in peace on this day.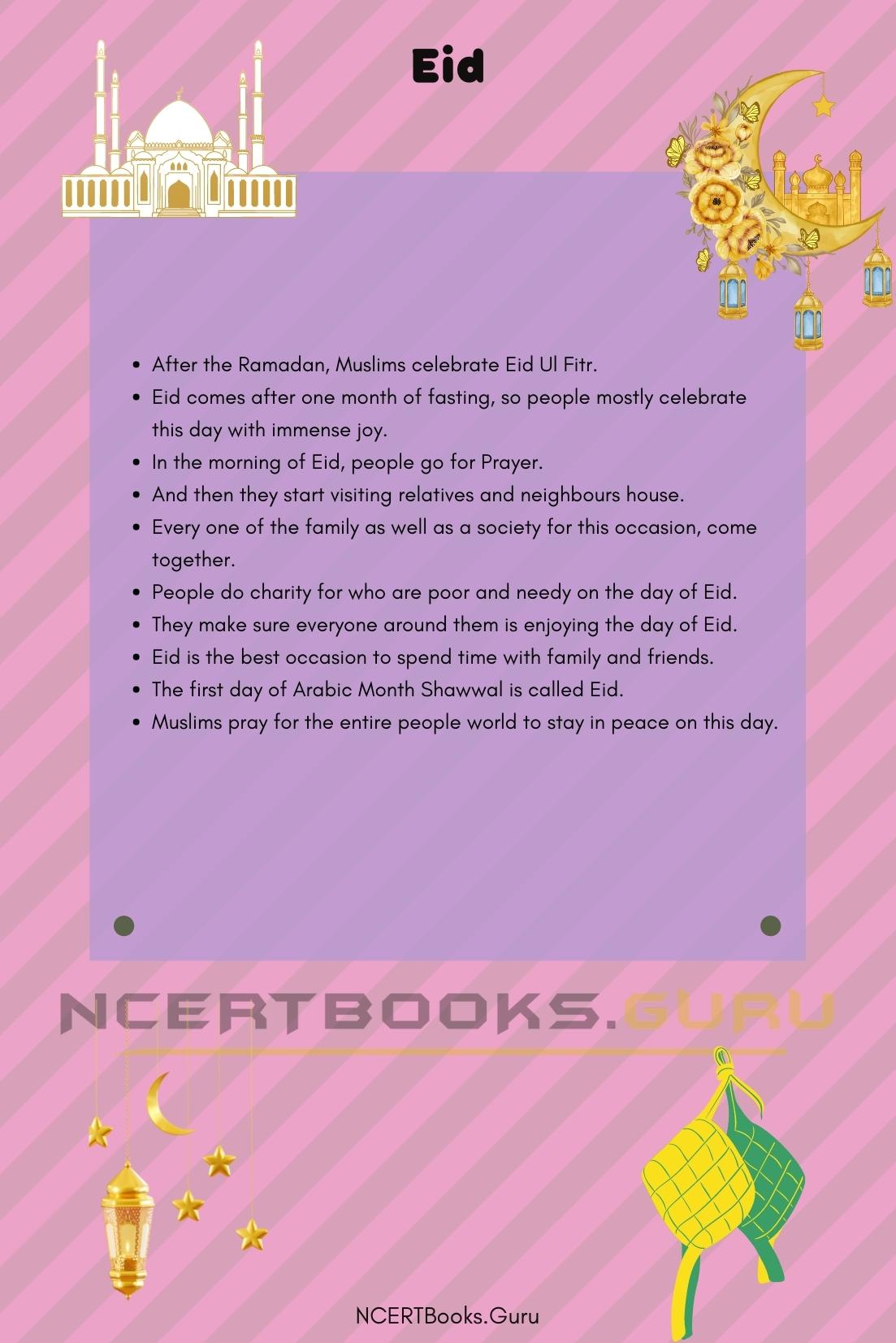 Set 2 – 10 Lines on Eid for School Children
Set 2 is helpful for students of Classes 6, 7 and 8.
In the month of Ramadan, Eid is an important festival of Muslims.
Ramadan is the twelve months of Muslims calendar and is considered very holy.
Eid is celebrated on its second day when the moon appears in the sky.
Eid is a festival of mutual brotherhood and union.
The multi-dimensional culture of India is symbolically represented by Eid.
People of all communities gives a message of brotherhood and happily celebrate Eid.
Bathing in the morning is a ritual, using perfume, wearing new clothes, eating dates before going to Idgah.
On this holy day, a large open ground for special Eid prayers or Idgah offers prayers.
Prior to the Namaz, they donate a fixed quantity of food grains to the poor, called Fitr.
Emotions like mercy, benevolence, generosity, and brotherhood are the root of the festival.
Set 3 – 10 Lines on Eid for Higher Class Students
Set 3 is helpful for students of Classes 9, 10, 11, 12 and Competitive Exams.
Eid is the biggest celebration among the Muslim Ummah in the world.
After fasting an entire month of Ramadan, Eid is the day is the first day of the month of Shawwal.
Before Eid, people ensure that the poor and needy person should celebrate this and have proper food, and they are also enjoying Eid.
Muslims do gather in a Mosque or Eid Gah to ask to visit their home and embrace each other.
The women of the house make different types of food items like Biriyani or cake.
People usually visit relatives' houses and also welcome relatives in their own homes.
In most Muslim countries to celebrate this occasion, there are 3 to 7 days of official government holidays.
'Eid Mubarak' is what people say and greet one another and make their brotherhood powerful.
People do exchange gifts too on this particular day.
Eid is a day with the highest joy and the best day for Muslims.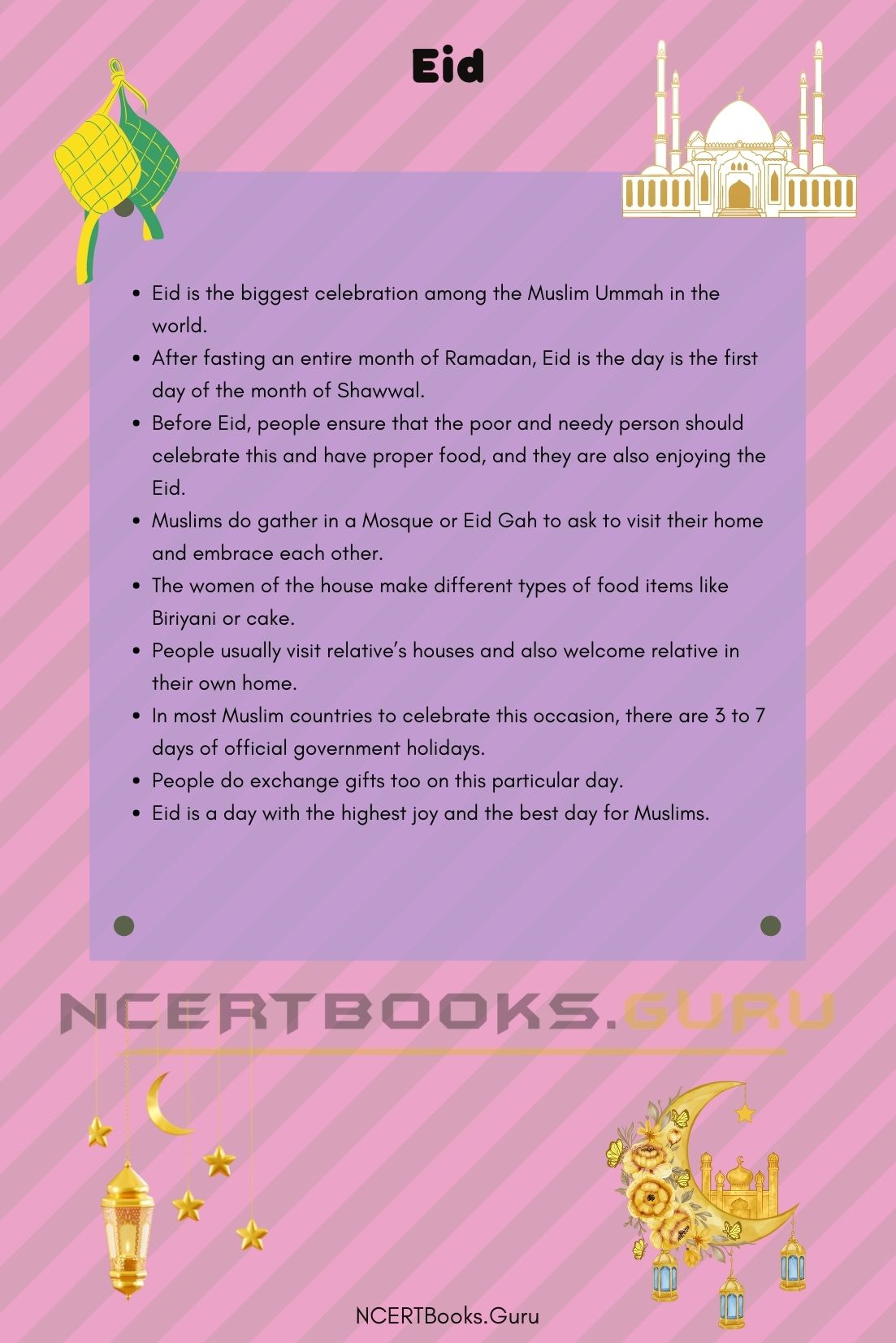 Frequently Asked Questions on Eid
Question 1.
What is Eid in English?
Answer:
Eid in the Arabic language means "feast, festival, holiday." For Muslims, Eid is actually a worldwide festival and celebration. During the end of the holy month of Ramadan in which Muslims fast for a whole month, Eid is celebrated.
Question 2.
Why do we celebrate Eid in English?
Answer:  
The conclusion of the 29 or 30 days of dawn-to-sunset fasting during the entire month of Ramadan, Eid is celebrated. Muslims believe in continuing their fast until the last day of Ramadan and paying the Zakat and fitra before offering the Eid prayers.
Question 3.
Why is Bakra Eid celebrated?
Answer: 
The willingness of Prophet Ibrahim to sacrifice his son upon the command of God get honoured by Bakrid or Bakra Eid.
Question 4.
Which is the main Eid?
Answer: 
There are two major Eids in the Islamic calendar per year – Eid al-Fitr earlier in the year and Eid al-Adha later. Eid al-Adha, which is known as the "Greater Eid" and is four-days-long whereas Eid al-Fitr is also known as the "Lesser" or "Smaller Eid" and is a three-day-long festival.