10 Lines on Cleanliness: In today's world, developing a habit of keeping the surroundings clean is very important. It not only makes you a responsible citizen, but you will also feel good about yourself and have a better character by keeping your soul and mind clean. Cleanliness helps to keep you internally and externally clean.
Our daily routine requires proper sanitation as it keeps us safe from diseases like hepatitis, Dengue, and other deadly mosquitos and insects. Cleaning is a good habit, and keeping our surroundings clean is very important. Children must adopt the habit of keeping their house and surroundings clean. It will not only keep them safe from diseases but also teach them to be kind. Here we have assembled three sets of ten lines on cleanliness for different standards.
Enhance your vocabulary and writing skills with 10 Lines Essays available. Spark up the creativity in you and access various Topics on 10 Lines all in one place.
Set 1 – 10 Lines on Robot for kids
The first set will help the students of classes 1, 2, 3, 4, and 5.
To lead a healthy life, one must adapt to the habit of cleanliness by keeping the house and surroundings clean.
One must keep themselves clean to avoid any disease, germs, or bacteria.
Diseases like malaria, cholera, polio, Dengue are all causes of untidy areas.
One who keeps themselves clean is likely to get less sick and keep themselves safe from deadly diseases.
Our environment is our priority, and keeping it clean must be of utmost importance for every citizen.
As we all know, greenhouse gases and other harmful and toxic gases pollute the environment, causing the greenhouse effect and ozone layer depletion; hence, keeping the environment clean must be our priority.
A clean environment keeps the air fresh, making it a safe and comfortable place, cleaning your mind and putting a positive impact on your life.
It is said that "Cleanliness is next to Godliness". Hence it is of utmost importance.
Many schools conduct cleanliness project on surrounding areas to teach and inculcate the good habit of cleaning among children.
Governments imply various cleanliness projects for the benefit of society.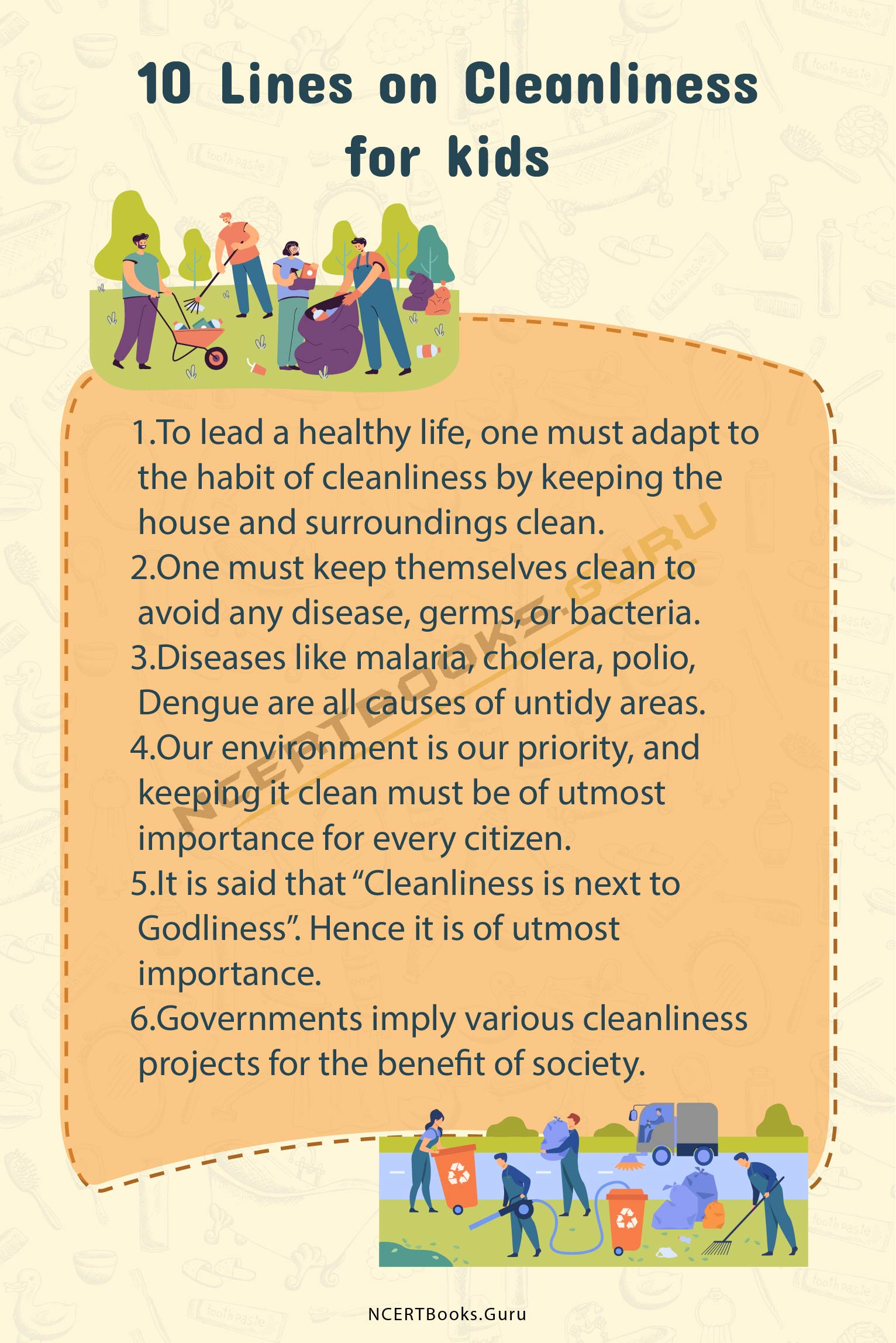 Set 2 – 10 Lines on Robot for School Children
The second set will help the students of classes 6, 7, and 8.
Cleanliness is a must for becoming a responsible citizen. It will help to keep the surroundings and environment clean.
Various popular and famous leaders focus on cleanliness projects.
According to researches, living in a clean and healthy environment keeps your mind and soul clean and happy.
Keeping your surroundings clean will help you maintain good health and keep you away from various health hazards.
Do you know that a dog cleans the place before he sits on it?
Children are taught to wash their hands before consuming food, because we have germs on our hands that we can't see with bare eyes, hence, causing infections and food poisoning in kids.
No matter what cloth you are wearing, clean cloth will automatically make you look noble and attractive.
Cleanliness is a habit that one can adapt at any stage of their life. It doesn't require money or a certain age limit to clean your house.
It is important to teach the children to keep their room clean and not throw things on the surroundings.
Keeping the house, body, and environment clean is very important to stay healthy.
Set 3 – 10 Lines on Robot for Higher Class Students
The third set is for the students of classes 9, 10, 11, and 12.
Keeping the environment clean is a habit that a child must adapt from the very beginning as it will inspire him to keep the surrounding clean and hence the environment.
Cleanliness awareness is vital today to keep the surrounding healthy, keep us safe from health hazards, and take fresh air.
Various schools conduct cleanliness campaigns to aware students of keeping the school, streets, and surroundings clean.
You will often find various tourist places dirty and filled with paper cups, plastics, and more. Wearing people to use dustbins and charging fine for dirty habits is the best way to stop the nuisance and keep the surroundings clean.
Plastic pollution is the most dangerous hazard in the environment. It is important to keep the plastics away from the streets and in the bin. Many shops and malls have stopped providing plastics to their customers and use recycled paper bags. Plastics make the soil unable to fertile and destroy it for further farming.
Cutting nails, brushing teeth regularly, taking a bath every day, and washing your clothes are the various ways that can help one to keep themselves clean. It will keep you safe from diseases, even from something as common as the flu.
Taking a bath twice a day is a great habit; however, it is sometimes impossible to take a bath twice; in such cases, it is best to bathe at least once and wash away the diseases and germs you bring home.
Various diseases like polio, cholera, malaria, Dengue, typhoid are caused due to uncovered water areas, dirt in the surroundings, and dirty water bodies. Therefore, it is important to keep the surroundings clean and keep yourself healthy.
The government takes various initiatives and projects every year to keep our environment clean and tidy to keep ourselves healthy and safe from deadly diseases.
The Central government has taken Swach Bharat Abhiyan's initiative, which is to keep our country a lot of greener and pollution-free.
Cleanliness is an important part of our daily activities. It helps to keep ourselves healthy and safe from deadly diseases. Many people suffer from harmful diseases because of a lack of proper hygiene and sanitation. The government and various private organizations build toilets and drinking water panels to keep the environment clean and children safe.